Reading Time:
2
min
While Android and iOS phones are becoming quite similar these days, the general story for the past eight years has been this:
Android has more features.
iOS has a smoother interface.
That's it. Now that Apple has caught up in terms of features, and Android has caught up in reliability and smooth operation, they're quite similar. Their watches, however, are the opposite of what you'd think.
Android Wear: Beautiful and Simple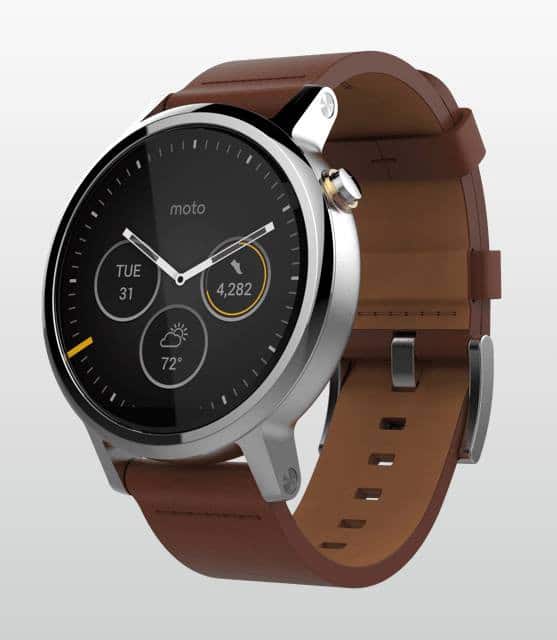 Android Wear is a very simple operating system, and the hardware coming out lately (see the Moto 360 above) looks quite awesome. The primary use of the watch is notifications; not only incoming calls/texts/emails, but the brilliance of content from Google Now.
Google Now is quickly becoming Google's biggest advantage. Privacy issues aside, letting Google know everything about you (email, calendar, GPS, etc) allows them to do some crazy cool things in Google Now. Apple can't touch it. Google knows what sports teams I like, so it keeps me updated on their scores. It knows how far the drive will be to my next appointment. It knows what news stories will interest me. It's creepy, but awesome, and the watch makes great use of it.
Yes, you can load apps on the watch, but they're more tucked away and somewhat of an afterthought at this point.
Apple Watch: Ugly and Powerful
The Apple watch isn't "ugly" by many standards, but you'd be hard pressed to say it's a nicer looking device than the Moto 360, Huawei watch and others. That said, Apple's watchOS is much more powerful than Android Wear, which is both good and bad.
The number of apps for the Apple Watch is already dwarfing Android (and Pebble and others) and many of them are quite awesome. The Apple Watch has more sensors than other watches and it can do some powerful things.
Switcheroo
All of that said, it simply feels like Google and Apple switched ideals for their watches. Google built something simple and beautiful, while Apple built something much more powerful and complicated. Neither approach is necessarily better, but it's an odd direction for each to take.
Having the phones grow so similar to one another, I'm excited to see the companies take separate approaches on their watches. I expect they'll draw a bit closer over time, but right now they both have a lot they can learn from one another.