Reading Time:
2
min
You've probably heard that having a blog on your site is a great way to increase traffic and awareness, and I wholeheartedly agree with that. However, most users that visit your site won't go over and visit your blog page. If that's the case, then why blog at all? Because it's intended for everyone else.
For a great example, let's look at the GreenMellen blog. That page I just linked you to is incredibly unpopular. Of the 25,000 visitors we've had on our site this year, only 433 have gone to that page. Here's a heat map that shows that relatively unpopular link at the top, with only about 3.3% of our home page visitors clicking over to the blog. Even that measly 3.3% is higher than most sites see. When someone visits your home page, they rarely go in search of your blog.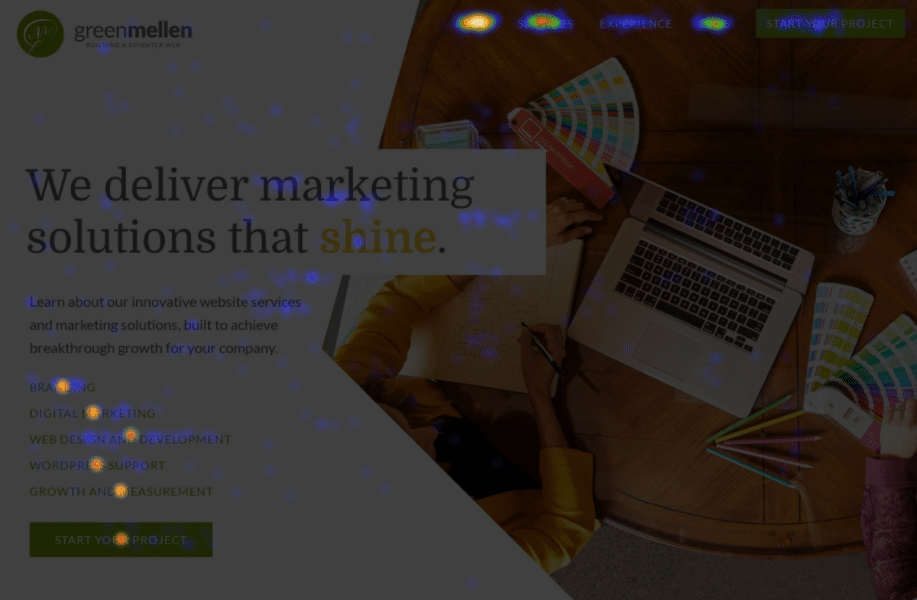 However, visitors have read our individual blog posts thousands of times, and we have five different posts that have more than 433 views each. Across our site, users have read content from 1,159 different pages this year, many of those being individual posts.
Google loves blog posts
Why does it work this way? It's really two reasons:
Search engines love blogs
Blogs can be great content for social media.
As I shared earlier this year, Google ranks pages, not sites. Generally speaking, the more high-quality pages you have on your site, the more chances you have to rank well for any given search. Great blog posts are a perfect way to build that inventory. If you can continually write excellent content on your site, each piece of content can turn into a great place for Google to send people.
Users hate "blogs"
If you write great content, users will find those individual posts (very often through Google) that help answer their question and that's a win for everyone. You helped someone solve their problem, and you attracted a user to your site (who now knows you as someone that helped them, which is always good).
As a whole, though, users don't like blogs. They have nothing against them, but they don't have time to just read through them to see if anything is interesting. They want answers to their questions, and Google may guide them to one of your posts that has the perfect answer. Take the win, and don't worry when the clicks to your main "blog" link end up looking a little weak.
We've had 25,000 users visit our site this year, only 433 clicked on the blog, and it's working perfectly.