Reading Time:
2
min
Facebook isn't listening to your phone, but creepy things can still happen. I had a few things come up today that were assuredly random, but felt like someone might be listening.
At lunch today, we talked about the Fyre Festival. It was the first I'd heard of it, but now I'm watching documentaries to learn more. 🙂 This afternoon, a story about it crossed a feed I was reading. Coincidence, or AI listening? It had to be coincidence, since this was an old-school RSS feed (where I see all stories from various sites), so nothing algorithmic was at play there.
Also at lunch today, we talked about "laughing salads", the phenomenon where stock image of people eating salads also tend to have people laughing while they eat them. It's weird. This evening, Kel showed me a funny pic on her phone — a laughing salad montage.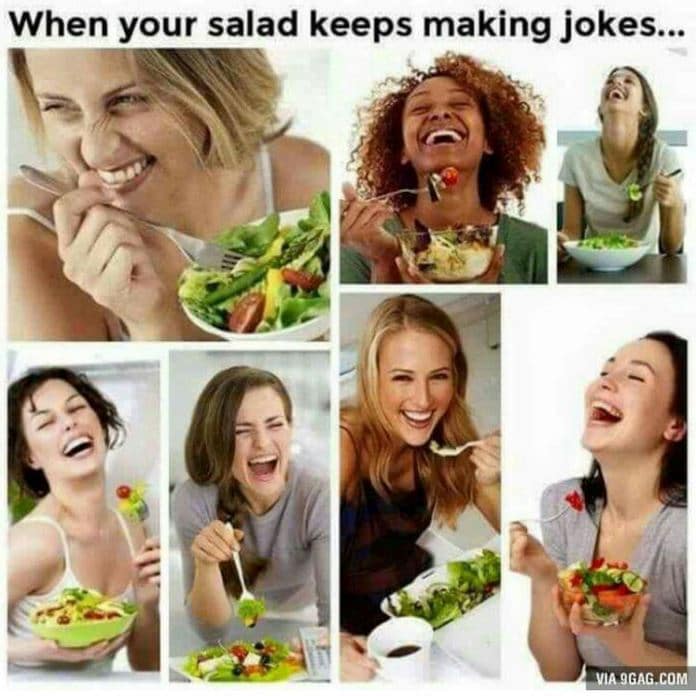 What's more likely?
So did some app listen to me talking about Fyre Festival, email writers for a site they know I subscribe to, then convince them to write an article and publish it real quick? Probably not.
Did Facebook hear us talking about laughing salads, then tell Kelly to show me a picture that one friend of hers had posted? Seems unlikely.
While Facebook and Google can do some really creepy things, it's good to know what's possible and what's not.
They know where you are, usually. If you go to Longhorn for dinner tonight and see ads for it tomorrow, that's real (thanks GPS!)
They don't secretly listen and serve ads based on that. Too many people are watching too closely for them to get away with that.
Your Alexa and Google Home aren't listening either. Same deal; people packet-sniff those constantly, and if either was sending back everything, we'd know. They could, for sure, but they're not.
Even if they all decided to listen and serve ads, how good could it be? I'm really impressed with how well Google Home understands me, but I still have to call it to attention and even then it's not perfect. If it was recording a room full of people all day and then tried to show ads based on that, the results wouldn't be great.
I blame my events today squarely on the Baader-Meinhof phenomenon (also known more simply as the "frequency illusion"), which all of us have experienced.
In my case with the Fyre Festival, it's probably come across my feeds a few times before and I just didn't notice it, but today I saw it and was like "Oh, that's the thing Ali was talking about!".
All of that said, Facebook (and to a somewhat lesser extent, Google) really do some crazy scary things to help serve you ads. This podcast episode from Reply All in late 2017 does a great job of digging into it all. Give it a listen: