Reading Time:
2
min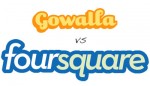 Before I left for Disney, I considered Gowalla and Foursquare to be about the same.  They both let you "check in" at various places (restaurants, stores, etc) and both have a bit of a game aspect to them.  Foursquare is based on cities and addresses, while Gowalla is based entirely on GPS.  While I'm in Atlanta, those work out about the same.  When I get away from the city, things change quickly.
Foursquare dies between cities: On our way to Orlando, we passed through a lot of smaller towns.  In some of those towns we stopped for meals, gas, etc.  On Foursquare, I couldn't check in.  It's based so heavily on specific cities that you're simply out of luck when you're between them.  With Gowalla, I simply added the new location and checked in.
Foursquare makes it too hard to add new items: If you happen to be near a big city, but your particular destination isn't in their system, it's a pain to load it.  You need to find the full street address to be able to add it.  In my case, I'd fire up Google Maps on the iPhone, search for the location, memorize the address, open up Foursquare, add the location.  With Gowalla, I simply type the name of the location, choose a category and I'm done!  It saves the location based on GPS, so there's no need for the address.
Foursquare is useless inside of Disney World: I thought it'd be neat to "check in" when we visited various attractions inside Disney World.  With Foursquare, it was tough to find the one you were at because it listed everything based on street address.  Not good. With Gowalla, it showed the attractions nearest your current location, which was perfect!  I didn't check in on all of them (too busy playing with the kids), but I got a lot of them.  It worked very well inside the park.
That's pretty much it.  The comparison wasn't even close — Gowalla is better in almost every way.  The one drawback it has right now is momentum.  Foursquare is getting all of the press, and therefore is getting all of the users.  In the end, if Facebook or Twitter doesn't steal it first, Gowalla has a decent shot of becoming the geo app of choice.
Either way, it'll be a fun fight to watch.