Reading Time:
2
min
My wife and I have been Kindle readers for quite a few years now. I picked up my first Kindle in 2010, and my wife got her first one a bit before that, and then we both upgraded to the Kindle Paperwhite some years later. It was a great reader!
When the new Kindle Paperwhite was announced a few months ago, I wasn't sure it was worth the upgrade. It had some minor improvements, but nothing major. Ours were getting a little tired anyhow, so we took the plunge, and it has been absolutely worth it. While the new one indeed only has some minor improvements, those improvements are all about quality-of-life and they're fantastic.
First, there are a few things that are nice, but not a big deal:
Better battery life. Always appreciated, but never a problem before anyhow.
USB-C port for charging, finally, just like almost every other device we own.
It was the other improvements that I'm finding make a big difference:
Warmer color temperature options.
A larger screen (with smaller bezels)
An updated processor.
It's really those last two that make the difference for me. The last few years I've really noticed my eyes fading a bit (needing more powerful glasses for long-range vision make reading a bit more difficult), so the larger screen is very nice.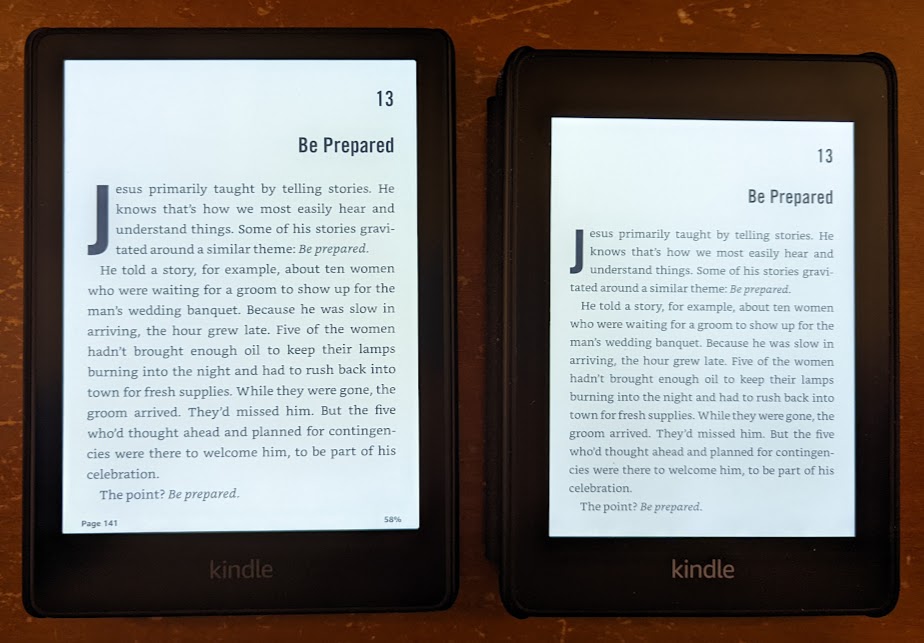 What I really noticed, though, was that new processor. This is still an e-reader, so you can never call it "fast", but things like navigating the menus and flipping pages are much more responsive now. When you read as much as we tend to, the quicker page turns really feel great.
At the end of the day, it's really just some minor upgrades but they make for a pretty solid overall improvement. If you didn't care for the Kindle before, this isn't likely to change your mind, but if you have an older model I highly recommend you check this one out.