Reading Time:
2
min
If I need to travel to a business that I've never been to before, I almost always scout it on Google Maps Street View first, so I have some idea what I'm looking for. Just a few weeks ago, this habit paid off when I discovered that I had the address wrong and would have been driving in circles. Instead, that two minutes of looking at Google Maps probably saved me 30 minutes of frustrating driving.
That said, it's a tough balance — how much effort should you put into preparing? Taking my example above further, I could have pulled up Street View for every turn along the route, figured out which lane to be in after each turn, looked for landmarks, etc. That would have helped, but would have taken an absurd amount of time and not been worth it.
Backups
Another example is how we handle website maintenance with our clients. We back up every site at least twice a day, we run at least two different malware scans on them each day, and we monitor their update and stability every five minutes. That's beyond the core work we do with content, plugin updates, etc.
For almost every client, that is far more than needs to be done. We manage roughly 200 sites, so that's 12,000 backups that we run every month, and we maybe need to use one of them every now and then. For that one, though, that backup is worth gold.
If a site happens to crash, we can get it back up and running in minutes and it seems super easy — and it was. Because of the effort we've put into being prepared, we can make problems disappear quickly.
I like what Barbara Corcoran has to say about preparedness: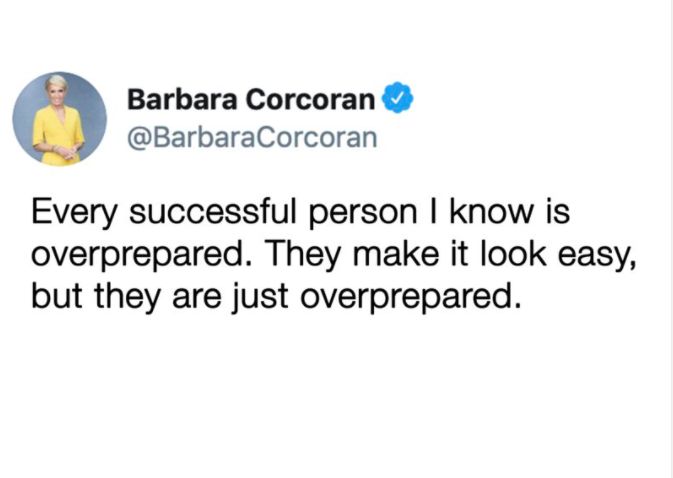 Time-shifting
In a way, I see being over-prepared as another way of time-shifting your effort.
When I was heading to that meeting, I was able to use some time from the night before to make the drive easier.
When a website goes down, we're able to use the time from earlier in the day (the backup) to save time right then and get things resolved quickly.
In both cases, being able to use some earlier time to speed things up when they really matter is absolutely awesome. If you're careful not to go crazy with it, being overprepared is a wonderful thing.