Reading Time:
2
min
While I use the native browser bookmarking tools a little bit, for years I've used various external tools to help keep sites organized. Right now I'm using Raindrop.io (which I first talked about a few years ago), and it does a pretty good job. It has a browser plugin to make it easy to add bookmarks to it, and has some nice features for organizing them.
However, there are a lot of new tools coming out lately to help with this, and one that caught my eye recently is heyday.xyz. The big thing that Heyday does is that it essentially saves your entire browsing history, along with other apps that you choose to connect to it (such as Slack and Email) and it will pull together what you need automatically.
Here is a good example from their site on how it augments a Google search result: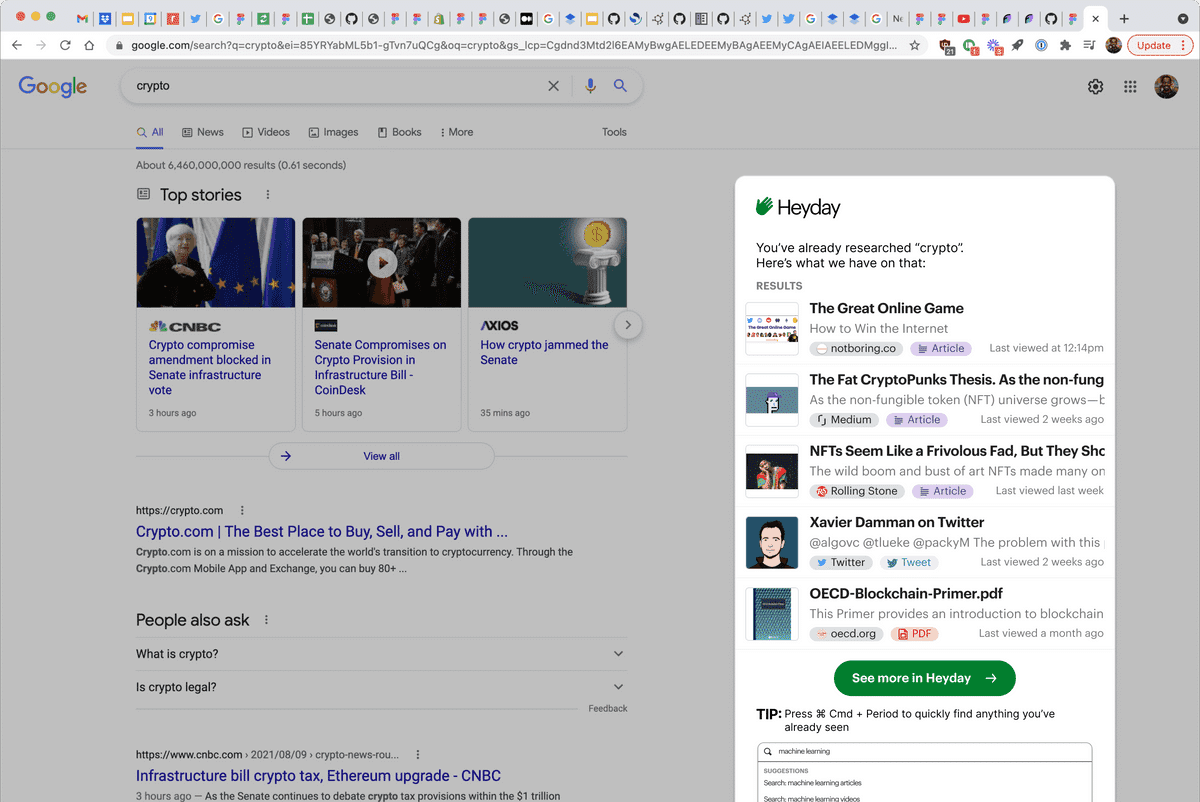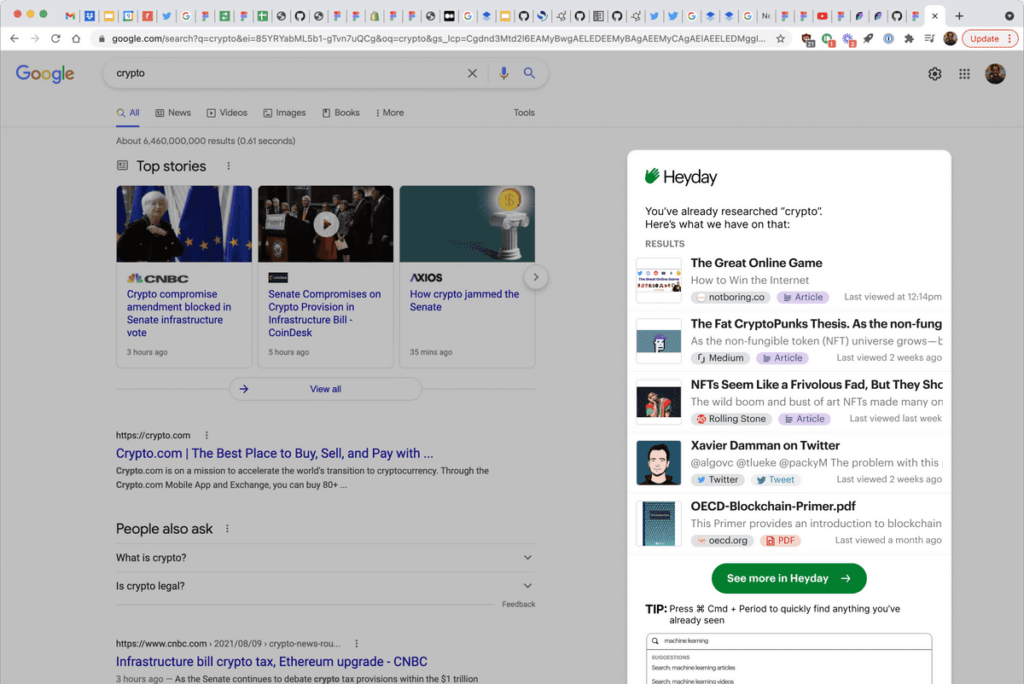 Privacy
I know what you're thinking, and I agree — "they're saving my full browsing history"? Yep. Here is their statement on that:
Unless we want to get sued, we will honor our privacy policy. It says that we will never sell your data or let someone use it to target you with ads. We make money by selling subscriptions. If we do something shady with your data, you will stop paying us. That would be bad. We also encrypt all your data in-transit and at rest so that you're the only person who gets to see it.
That helps, but the entire concept is still a bit worrisome for me. I might be ok with it if it brings me enough value (most of our browsing is being tracked in one way or another already), but we'll see if that turns out to be the case.
For now, I'm seeing two main things:
For surfacing old notes and sites, it's great!
When I'm on a website, it'll often have an icon "wave" at me and tell me about past visits and where I've made other notes about the site. If you click the little waving hand, it pulls in relevant content like this: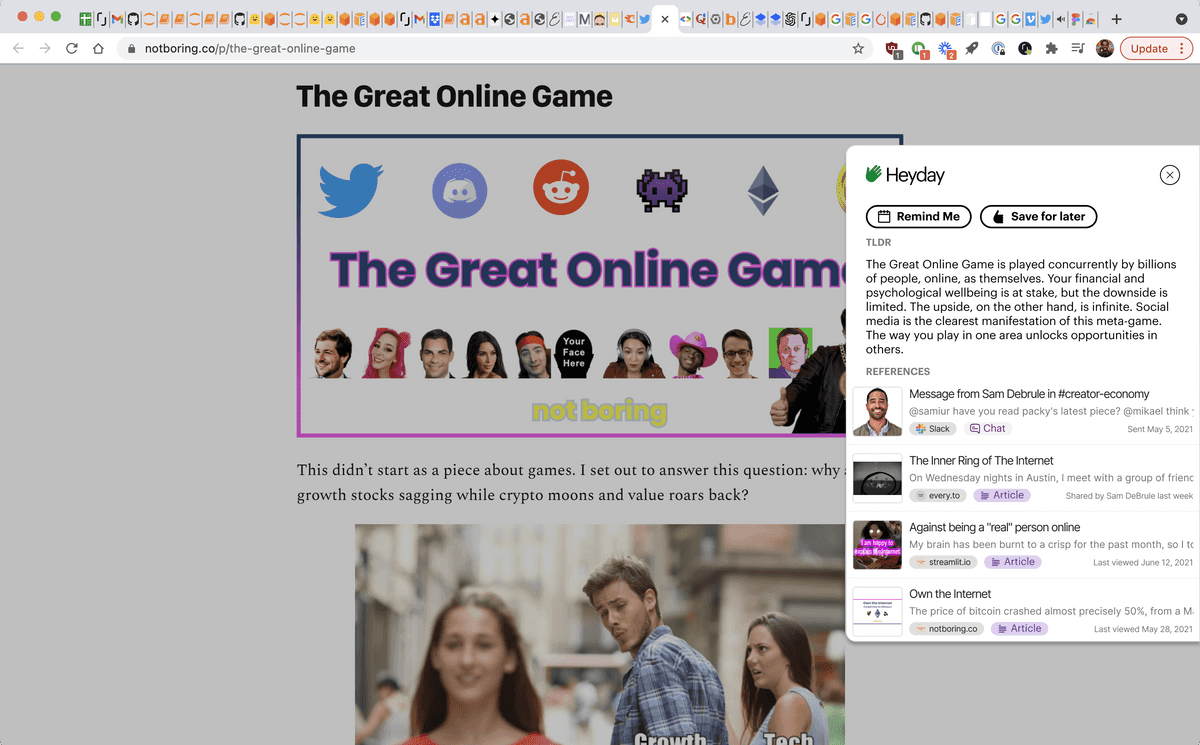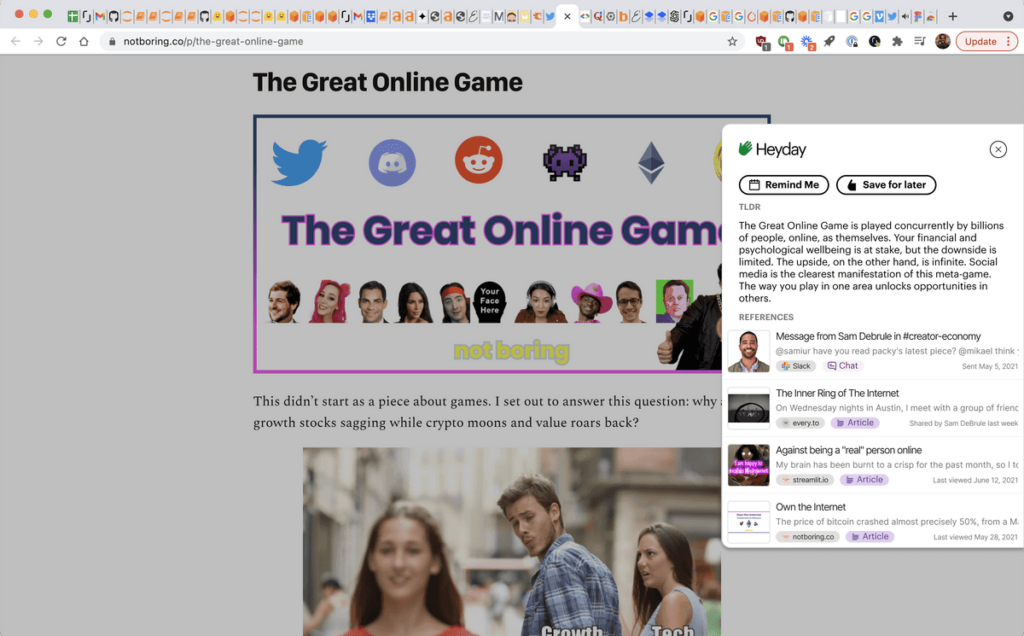 For finding specific bookmarks, it's not so great.
You can pull up the site (or the app on Windows, Mac or iOS) and search through everything, but it's messy. The messiness seems to be by design and may work, but I also usually like to have tidy folders for specific areas of interest. They have a "star" feature which is similar to a proper bookmark, but not quite the same.
I'm not sure if I'll stick with it, but so far it's been quite interesting. They have a free trial and then it's $10/mo after that, so give it a try if you're interested.