Reading Time:
2
min
When you're working to improve your rankings in Google, it's easy to slip into the idea of trying to improve the rankings for your entire website at once. While there is a bit of benefit to that, generally speaking Google looks more closely at individual pages than they do at entire sites. In fact, most of your searches on Google will lead to specific, well-optimized internal pages on websites, and not their home page.
As an example, I just searched for "best playstation games" and got the following results:
https://www.gamesradar.com/best-ps4-games/
https://www.metacritic.com/browse/games/score/metascore/all/ps4/filtered
https://www.eurogamer.net/articles/best-ps4-games-20261
https://www.techradar.com/best/best-ps4-games
https://www.polygon.com/ps4/2018/10/12/17965856/best-ps4-games
https://www.ign.com/articles/best-ps4-games
https://www.tomsguide.com/features/best-playstation-games-of-all-time
https://www.tomsguide.com/round-up/best-ps4-games
https://www.pocket-lint.com/games/buyers-guides/131744-best-ps4-games-the-top-playstation-games-to-play-now
You'll notice that every single one of them was for an internal page on a website. I suspect most of your searches end up that way too.
Related is the often overblown concern about how well the home page of your website ranks. While you certainly don't want to ignore your home page, most users will indeed arrive on your site via internal pages. This is important for two reasons:
You need to make sure you optimize your entire site for Google.
You need to make sure you optimize your entire site for your visitors. Most visitors won't arrive on your home page to learn how great you are; they'll land on a random article deep in your site. Does that page provide context and links to help them learn more about you?
Case in point, in 2020 we had a total of 20,036 visits to the GreenMellen website. 4,962 of them came through the home page, which was certainly a lot. While it was our most popular page, which is generally the case, this means that over 75% of our visitors arrived on our site somewhere other than the home page! Here's a screenshot to show you what I mean: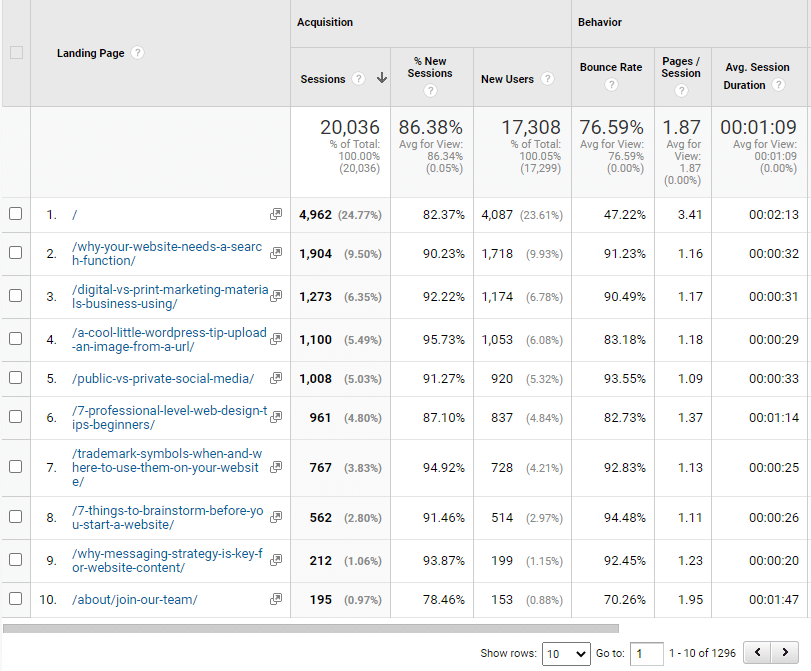 Notice the number in the far lower right corner – 1296. This shows that people arrived on our site through almost 1300 different pages. Google didn't just drop people at our front door — it took them to exactly the page that best answered their question, just like the PlayStation example we saw above.
If people come through your front door, you don't necessarily know why they're there, so make sure your home page passes "the grunt test". If they land elsewhere, it's because Google thought that specific page on your site was a good answer to your question, so make sure you guide them from that page to take the next step.