Reading Time:
< 1
min
I recent had an interesting conversation with a developer from another web agency. He was showing me a site they had just launched, and it looked great! However, I quickly noticed there was no SSL on the site, so it was showing "not secure" at the top. It's an important thing to have these days, but pretty easy to overlook.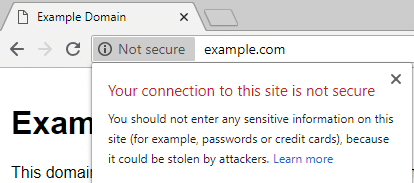 I mentioned that to him, expecting him to jot down a quick note to go fix that later. We make little mistakes when launching sites from time to time, and this one is an easy fix. However, instead he simply said: "No, they didn't ask for that."
I was dumbfounded. Only about 20% of our clients would think to ask for that, but 100% of them get it. They shouldn't need to request something as basic as that. Agencies are paid to be the professionals, and waiting on a client to know to request an SSL certificate is very short-sighted.
These days, the effort and cost to put SSL on a new site is pretty close to zero. It's really a matter of just doing the right thing.
What other things are you waiting on your customers to specifically ask for, that you should really just be doing for them anyhow?