Reading Time:
4
min
You may be familiar with Google Analytics, used to track traffic on a website, but not as many are as familiar with Google Search Console. I thought I'd take a minute to explain why you might want to set it up.
The great thing about Google Search Console is that there is nothing you need to really "set up". No code to install or anything like that. It's 100% run from Google's servers — you just need to prove that your site is really yours, and then you get access to the data within.
Google Analytics vs Google Search Console
When first starting out, people are often confused about the difference between Google Analytics and Google Search Console, as they seem fairly similar — and they are. The best analogy I have is this one:
Google Analytics is on your site. It's like someone being in your house, writing down everything that's going on. Who is coming over, who is leaving, what they look like, what they did while they were there. Things like that.
Google Search Console is more like someone in a car in front of your house. They can see who is coming and going, but can't tell what's really happening inside.
The great thing with Search Console is that Google can tell you a ton about what's happening with your site on Google. Analytics only tells you what happens when someone arrives on your site (which is hugely valuable, of course), but Search Console can tell you more about what happened before they arrived.
In fact, it can help answer some of the questions I raised in my recent post about Survivorship Bias — what are some things that people are searching for in Google when your site doesn't get clicked? That is amazing information to know.
Like Google Analytics, there are hundreds of things to see in Google Search Console, and it can be a bit overwhelming. To get started, here are three areas that I like to look at in Search Console.
Search Results
If you click "Search Results" on the left side of the page you can dig into how your site shows up in Google searches. Among other things, this page will show you how many "clicks" and "impressions" you've been involved with recently.
Clicks are showing how many times you've appeared in search for a given query, and then the user has clicked through to your site.
Impressions are how many times you've appeared in search for a given query, regardless whether anyone clicked your result or not.
The intersection of those is pretty neat — you can see times when you show up a lot for a given search term but have zero clicks. This is likely a great opportunity to work on that keyword and start getting some clicks. It's way easier to raise up a keyword like that than to try to rank for a brand new one.
Here is a screenshot of this blog in Search Console, showing a bunch of great opportunities for me.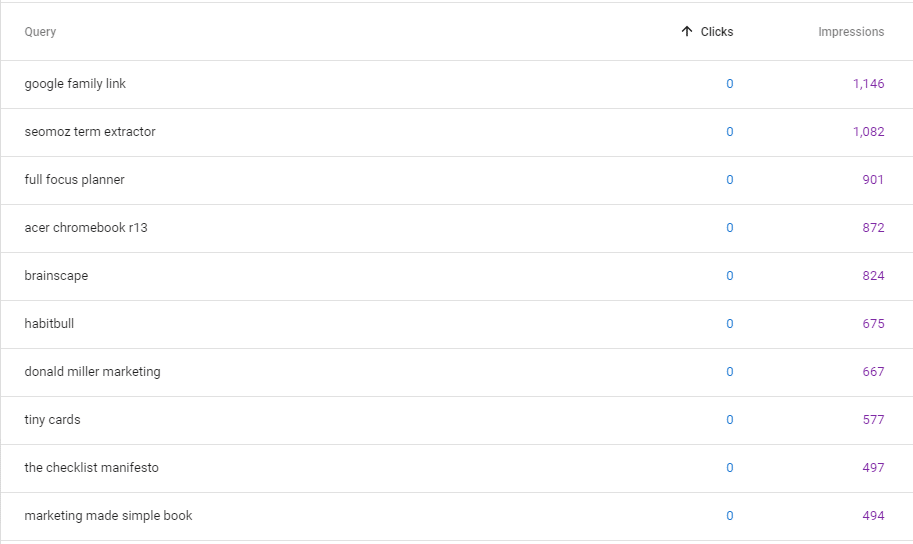 Sitemaps
The next area to visit is the "sitemaps" tab on the left side of Search Console. This is where you can link to a sitemap on your site, which is a special page that lists all of your pages and posts. It's not much to look at, but can be pretty useful. For example, if you want to check out the sitemap for this site, you can see it here:
https://www.mickmel.com/sitemaps.xml
This is powerful with Search Console, though, because it's a quick way to tell Google what all of your pages are. They won't necessarily rank you any better because of it, but helping Google to understand your website is always a good idea.
To find your sitemap, most SEO plugins on WordPress include one, if not then WordPress itself has one you can use. If you're not on WordPress, check with your software to see how they handle it.
The other great thing about sitemaps is that they update automatically. Load it into Search Console once and it'll automatically pick up every new page and post that you create in the future.
Messages from Google
This is perhaps the least used, but most important. If Google sees a problem with your site, they'll use Search Console to contact you. If you don't have Search Console set up, you're out of luck.
They may reach out because some of your pages disappeared, or they think you've been hacked, or a variety of other things. It's almost always bad news, but it's news you need to be aware of so you can fix it.
We set up Search Console for every client site that we manage, with the main job of listening for these messages so we can fix any issues that might pop up.
How to get started
If you're not yet set up in Search Console, it's pretty easy to get started. Just head over here:
https://search.google.com/search-console/welcome
Enter the address for your site, and then it'll ask for confirmation. That may take a bit of work, but your web developer can help with that.
Or, if someone else already has access to Search Console for your site they can click on "Settings" and then "Users and permissions" and add you that way.
If you have trouble getting verified, or have any other questions about how to use Search Console, leave a comment below and we can help you out.