Reading Time:
3
min
Starting back in 2006, Dos Equis ran a series of commercials featuring "The Most Interesting Man in the World". If you've not seem any of then before, here is an example:
When reading Robert Carnes' book "The Story Cycle", he made an interesting note about these videos and the bit of humility they always showed at the end ("I don't always drink beer, but when I do, I prefer Dos Equis"). From his book:
"They had the clarity to know that a guy this interesting is going to prefer tequila. He's not going to tie himself to one beer brand. They had enough humility to keep it realistic – at least as realistic as a guy who lives vicariously through himself."
That quote reminded me of a post that I saw on LinkedIn a few days ago. A man from a local marketing agency posted this:

To be fair, it indeed piqued my curiosity. Was he going to talk about some services they didn't offer? Maybe some industries they don't serve? Maybe just something tongue-in-cheek? It turned out to be none of those; clicking "…see more" showed this: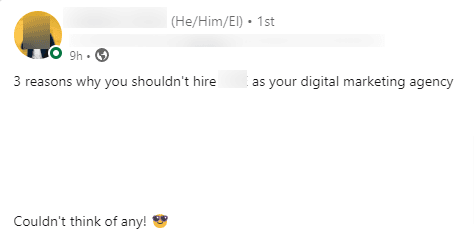 It goes back to the thought of if you don't say no, your yes is meaningless. I would estimate that 75% of the leads that I talk to at GreenMellen I end up referring to another agency instead. We are fantastic at what we do, but what we do isn't what everyone needs. For those that need what we offer, great! For those that need something else, I'm happy to point them to a company that can better serve their needs.
For example:
If you need a new website in two weeks, we're not a good fit.
If you need help making changes to your Squarespace site, we're not a good fit.
If you have a super complex ecommerce setup, we're not a good fit.
If you want to jump in and just get help with your social media, we're not a good fit.
Those are all perfectly valid reasons to use a marketing company, and I know folks in the area that can do a great job with all of those. We build on WordPress, with a powerful messaging strategy up-front, in a process that will take roughly six months. The result is phenomenal, but it's not what everyone needs.
I'm not sure what a great answer to "3 reasons why you shouldn't hire…" would have been, but it seems that a bit of humility might have helped. It sounds to me like they try to help literally anyone on any project, making them experts in essentially nothing.
A beer company ending their commercial with a spokesperson saying "I don't always drink beer", and even then softening the statement with "I prefer" seems illogical, but that's the truth of what people think, and some honesty and humility helped make that one of the great advertising campaigns of all time.