Reading Time:
4
min
I've been a big fan of Google Chromecast since it first came out back in 2013. It's a cheap device ($35) that makes your TV do some magic. If you're not familiar with them, this video gives a nice overview — note that the video is nearly five years old, so some things have certainly changed, but the basic idea is still the same.
When I decided to finally cut the cord a few days, I thought I knew everything I needed to know about Chromecast. I was wrong. I had the basic idea right, and things are working as expected, but I've discovered a few things I felt were worth sharing.
Most of the major streaming services work with Chromecast (YouTube TV, Sling TV, Hulu Live, Netflix, DIRECTV NOW), with the major exception being Amazon Prime Video — and that's simply due to pettiness between Amazon and Google.
For what we need, it works great.
Not all Chromecasts are created equal
When Google released a slightly newer Chromecast in 2016, I didn't think much of it. Reviews said it was essentially the same, and I didn't think I needed one. I used ours relatively infrequently, and when I did it worked fine. We eventually had two TVs with the old one and two with the new one, and I considered them equals.
With live TV, though, it was a different story. Shows from Sling would skip more frequently than I'd like, and YouTube TV would give a warning every time that I should update my Chromecast for a better experience. They were right.
The differences between the two models are subtle, but important. The new model actually has less memory, but much better connectivity and a slightly faster processor. The old one could cache a bit more data (and thus Netflix always worked fine for me), but simply didn't have the speed to keep up perfectly with live TV. Now that all of our TVs in the house are using the "new" Chromecast (from 2016), the difference is quite noticeable and all is running great.
Keep it plugged in
Another reason I didn't use Chromecast too often before was because of the hassle. It's totally a first-world hassle, but it was enough to turn me off.
For regular TV, you turn it on and get watching.
For Chromecast, turn on the TV, change the input, wait for it to boot up, then start your show. Not a big deal, but adds up if you have to do it frequently.
Now that we no longer have "regular" TV, changing the input is no longer a problem — the TV always stays on the Chromecast "channel". However, the TV comes on faster than Chromecast is able to boot up, so there's still a lag there. The reason is because Chromecast needs external power (you plug one end into your TV, and the other end into a power source) and so it's often turned off when the TV is off.
Since the Chromecast came with a USB plug, and most of our TVs have a USB outlet, I plugged it in there. It worked! However, when the TV was off it disabled power to that outlet, and turned the Chromecast off as well. I've now run the power for the Chromecast to a normal wall outlet, so it stays on even if the TV is turned off.
Not only does that eliminate lag when it turns on, but with most TVs you can "cast" something to the Chromecast and it'll turn on the TV for you and start playing right away. Pretty handy.
Backdrop could be so awesome
When your Chromecast and TV are turned on but you're not casting anything, you're looking at the Chromecast "backdrop". It looks something like this: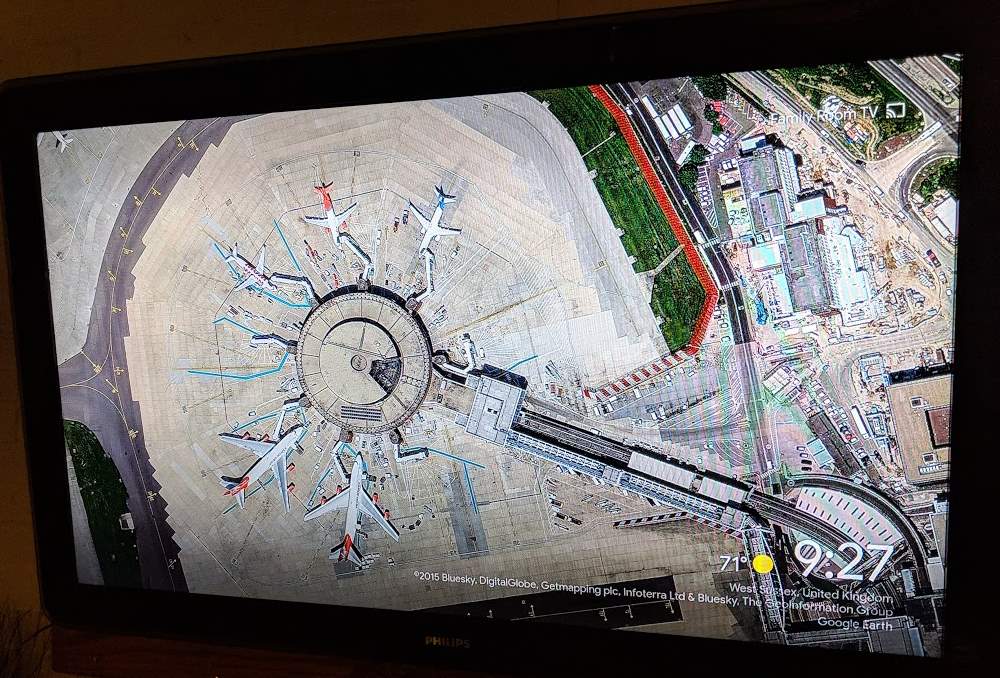 It's pretty neat. It shows photos from around the world in categories you can choose from, including pulling from your own Google Photos or Facebook. You can have it show the weather in the corner, and even pull in some news headlines.
It's great, but it could be so much more. I've seen various articles about smart mirrors over the years, and it would seem to be pretty simple to integrate those kinds of features into backdrop.
If you've ever read an article about DIY "smart mirrors", they spend most of the time talking about finding the right mirror, trimming stuff off of the tablet, mounting it together, getting power and wifi to it, etc. With Chromecast, all of that stuff is already done — all that's left is the content piece, which is relatively easy.
Chromecast is already connected to my Google account (hence the ability to add my photos). It would seem to be pretty straightforward to add my next few calendar events, commute time, and some basic info like that.
All of that said, it's still kind of nice. The TV can just sit there ready for you, showing amazing photography and the weather info.
I'm still a big Chromecast fan, but now I'm much more educated about it too.
Do you use Chromecasts in your house?