Reading Time:
4
min
I've been a heavy user of Anki for a few years now, and it's changed my life quite a bit. This post from late 2016 explains it quite well, and you should probably read that first if you're not familiar with Anki and these kinds of learning systems.
Earlier this year I dug into Tinycards, but I was fairly unimpressed and Anki was still tops for me. However, over the past few weeks I've been playing with Brainscape quite a bit and now I'm making the switch away from Anki.
They're very similar systems; in both cases you can download or create your own decks (including text, images, sound, etc), and then review the flashcards (with varying algorithmic "spaced repetition systems") to begin to learn them.
Why switch?
It was a tough decision to switch over, as there are some things I prefer with Anki. In particular, while Brainscape's algorithm is great for many kinds of learning (here is a bit about their algorithm, and this white paper goes very deep into it), Anki's is better for others. I kind of wish I could combine the two systems; I even considered using both side-by-side for different kinds of content, but decided that was overkill.
Another thing I like about Anki is the tagging system it uses. I can have one card with multiple tags, so I can view it in different scenarios (such as people that I know from our #meetup, but also might be a #client). Brainscape forces each card into their own deck, so I've had to decide where to put certain cards.
Lastly, Anki wins on price. It's free for most systems (and $25 on iOS), whereas Brainscape pricing goes from $9.99/mo up to $79.99 for lifetime. For me it's a pretty easy call to just spend the $80 and have it forever, and their pricing is certainly affordable, but Anki is certainly lower priced.
Where Brainscape wins
All of the above items aside, I've found Brainscape to be a better solution for me, for reasons such as:
Look and feel
Anki works well, and that's the most important thing, but Brainscape just feels so much better. Anki feels like Windows 98, whereas Brainscape feels like a modern app.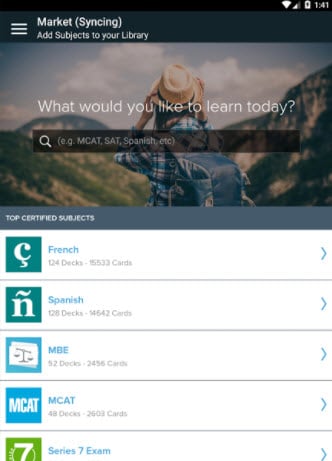 Sharing
This was a big one for me. While you can share decks in Anki, you're really just giving a copy to someone. If you make changes, they don't see them. With Brainscape, you can truly share decks and continue to refine them. For us, this means we can have a few GreenMellen-focused decks (clients, messaging, etc) and always be tweaking them for the team.
Available decks
While Anki has a large collection of user-generated decks, Brainscape seems to have many more. Further, because Brainscape is a paid service they're able to create quite a few "official" decks that are nicely curated. In particular, their knowledge rehab set (consisting of 33 decks and 2099 cards) is an awesome way to improve your general knowledge. Below are some of their available subjects; some are available to everyone, and some are locked to premium users only. Once you're a premium user, though, every deck is available (no one-off purchases required):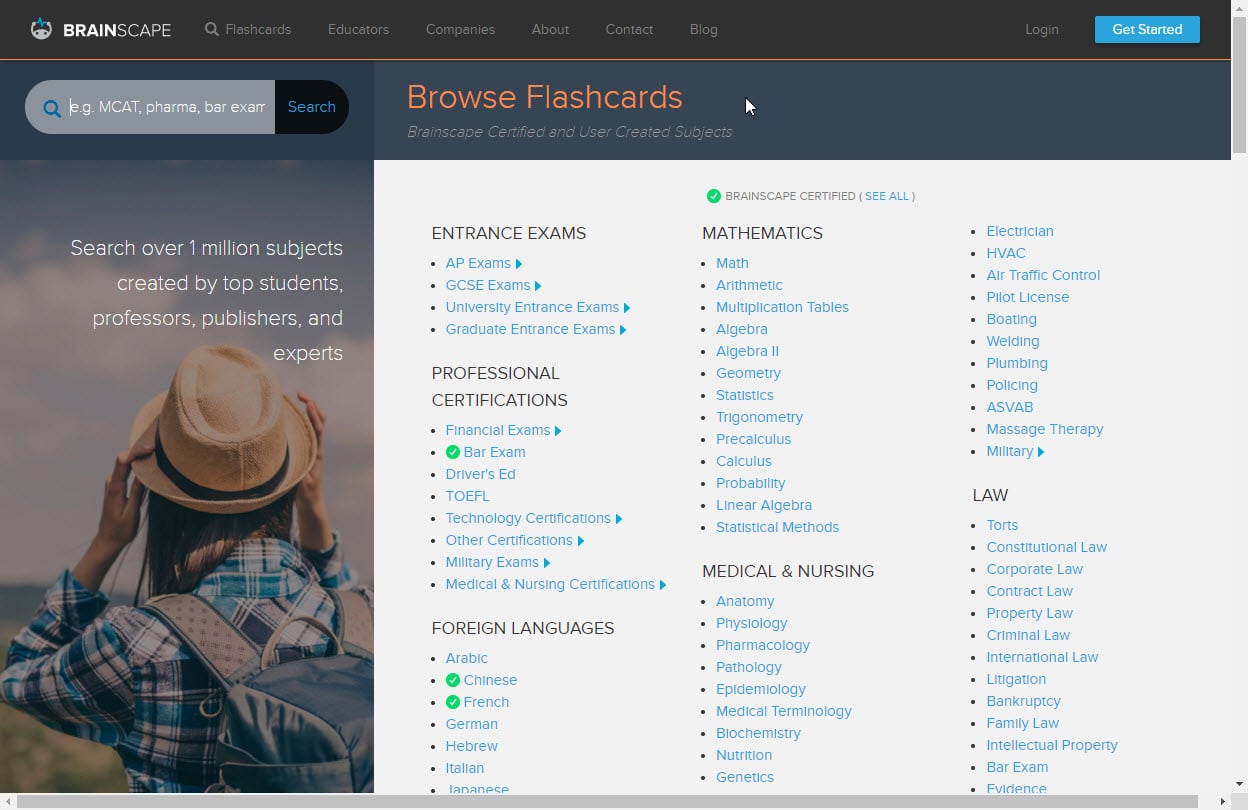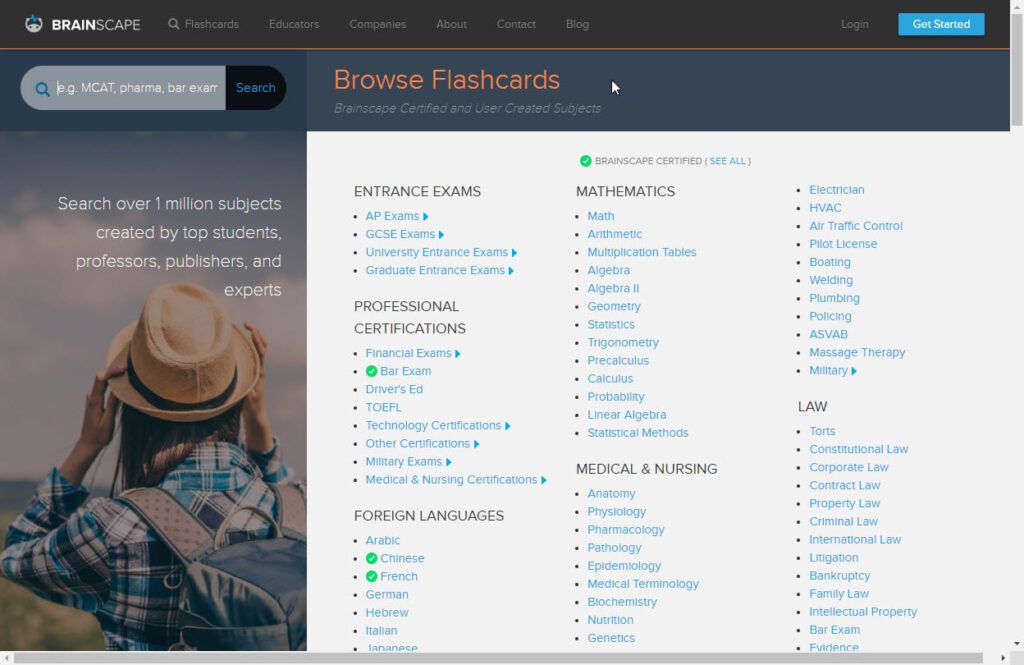 Open-ended study
I went back and forth on which method I prefer on this, and there are advantages to each, but I'm liking Brainscape's open-ended study method more than Anki's strict repetition system.
With Anki, you have a set number of cards to review each day, based on the calculated "spaced repetition" that you need to see them with. I kind of liked knowing I needed to review x cards each day, as it gave me a goal. However, studying extra was kind of a pain and seemed to be discouraged by the app.
With Brainscape, it's more open-ended. You're always trying to get to 100% "mastery" of each subject, but that's it. If you want to study for 10 minutes or three hours, that's up to you. You can see in the screenshot below some of my various subjects on the left (with the gray bar showing mastery of each) and then the mastery level of each deck inside of "Knowledge Rehab" in the center.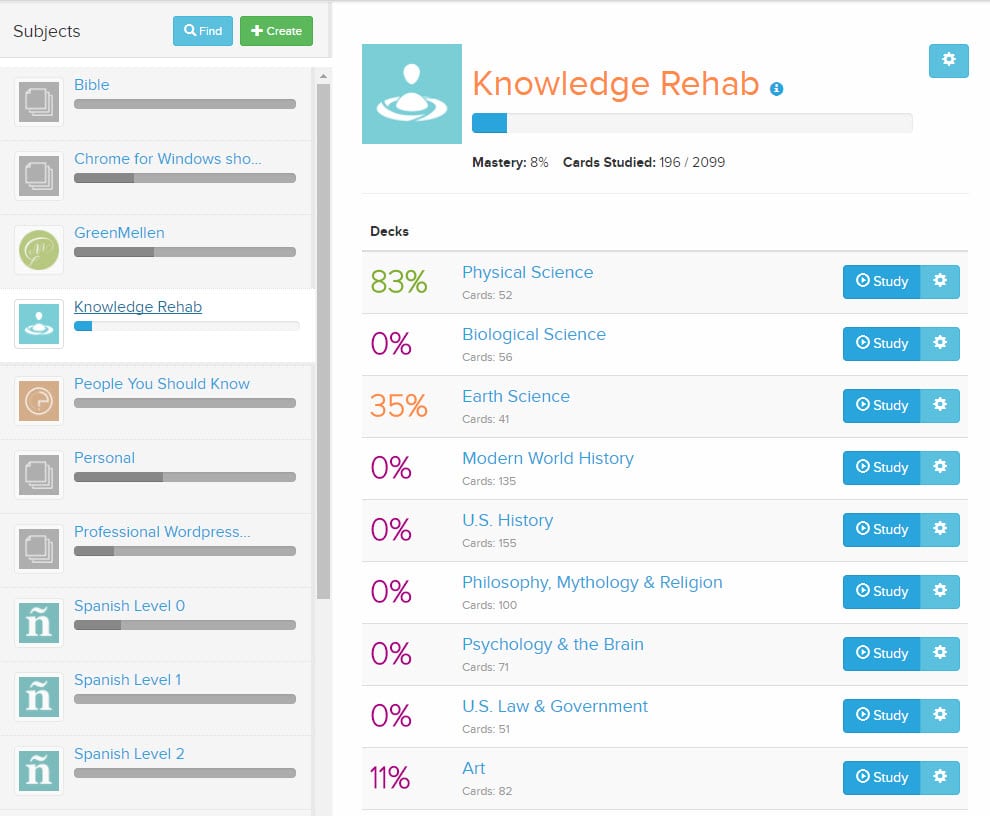 My only wish is that Brainscape would add some kind of "decay" feature, or something to slowly lower mastery over time. If I study a subject hard and get 100% mastery, that's great. A year from now, though, I certainly will have forgotten parts of it. Brainscape says you should simply review subjects periodically, but something that automatically slowly diminishes the mastery score over time would really help.
Final Thoughts
At the end of the day, you can't go wrong with either. I'm on board with Brainscape now, and I'm hoping to drag some GreenMellen colleagues with me. If you prefer Anki, I can totally see that too.
If you're wanting to dig into Brainscape, here are a few video tutorials on Brainscape to get you started.
Do you use a system like Brainscape or Anki? Which system works best for you?