Reading Time:
4
min
Last week I told you that you should try to keep "stuff" out of your brain so you can free it up to work harder on important things. Today I'm going to flip that around and show you how to cram more into your head.
This isn't to go against what I said in the previous blog. All of your "stuff to do" should be tucked away on lists, your events should be on a calendar, and you shouldn't constantly be worrying about remembering the next four things you need to do.
On the other hand, it can be good to be constantly improving your knowledge. One way I do that is by keeping up with hundreds of RSS feeds, which I explained a few years ago in this post. I still follow over 500 blogs in there and I'm pleased with how well it helps to keep me informed regarding WordPress, Google and other topics that are relevant for what I do.
However, in the past year I've added a new tool to my daily arsenal that has been life-changing: Anki. I had stumbled upon this amazing article and then began to research the best system to make it happen. My searching led to Anki, and subsequent dives into similar software has only served to reinforce that decision.
Anki
So what is Anki? In short, it's a spaced repetition flashcard system. You load it up with things that you want to remember, and it will quiz you on them each day. The magic is that it only shows you a card when the algorithm thinks you're just about to forget it. As a result, once you've learned something you'll only see that card pop up once every few months to help strengthen that memory. This means that in 10 minutes a day (around 150 cards) you can eventually memorize a deck of over 13,000 items!
My first (and still most important) use of Anki was on remembering people's names. I always considered myself bad at remembering names, but it was really that I was just lazy about it. If you ever attend Kathy Drewien's Meetup, you'll be amazed at how she knows everyone's name — I certainly am! However, if you watch closely, she works hard to learn each person's name, repeat it a few times, practice, and make sure she has them down. It's not magic, but it works wonders.
I started by adding a few people whose names I wanted to be sure to remember, but I've slowly expanded it to include pretty much everyone other than my family and coworkers — 841 cards as of today! A good example can be seen below. When reviewing my "people" deck, this card might come up: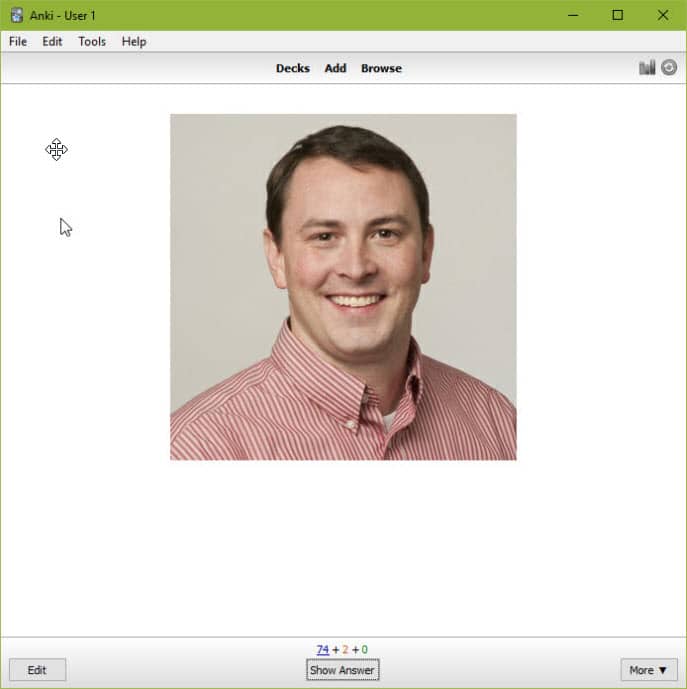 It's a guy I absolutely should know, but I only see him maybe once or twice a year; those are the names that tend to slip away pretty easily. I think about it for a few seconds, then click the "Show answer" button below the photo. Did I get it right? Once I reveal the answer I get to choose "again" (got it wrong, put it back in the active stack), "good" (it'll push it out a bit further for next time) or "easy" (it'll push it out even further).
In the case of Micah above (a brilliant WordPress developer, btw), his card only shows up every few months because I've gotten it right a few times in a row. Whenever I meet someone new (client, colleague, Meetup attendee, neighbor, etc), I try to put them in there. While I'm still quite imperfect with names, I'm far better than I used to be.
Do you know your countries?
Since then, I've taken it further by adding other decks. You can create your own, or choose from hundreds of shared decks made by others. One that I've been working through is the location, capital and flag for every country in the world. I've always felt a bit weak on geography, so this is helping me improve. Do you know this flag?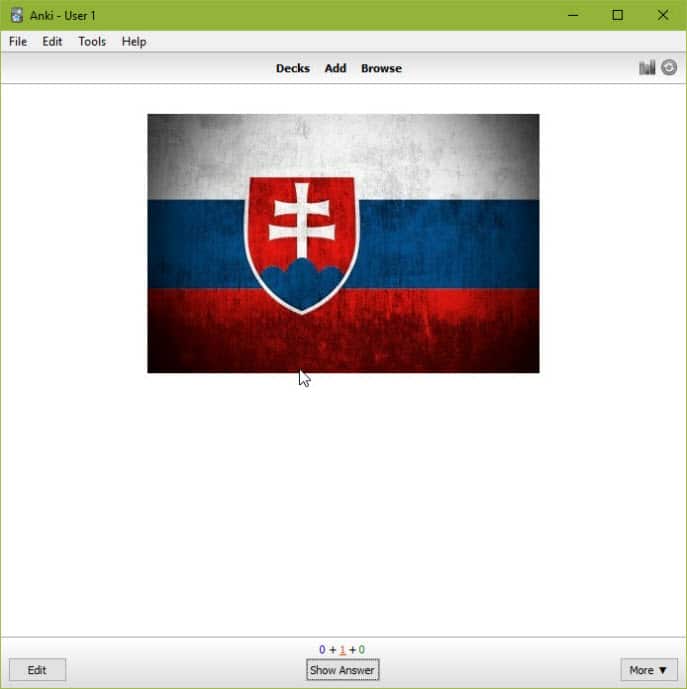 Let's click "show answer" and find out!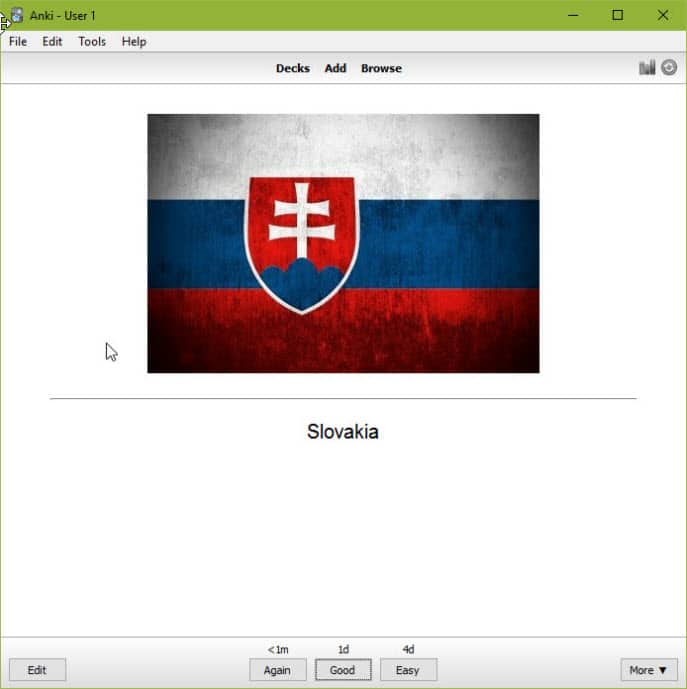 Did you get it right? Now you can either click "again", "good", or "easy" and it will adjust accordingly. You can choose how many new cards to add each day, so I simply have one new geography card pop into the deck each day, with usually 20-30 older cards that I need to review.
Other decks
I've also created decks for numbers to memorize (my kid's social security numbers, driver's license number, etc), Spanish words I'm currently reviewing in Duolingo (there is an export feature) and the order of the books of the Bible. The Spanish and people decks are constantly growing in size, and the geography deck will be showing me one new card every day for the next few years, so I doubt I'll add any other decks soon.
I encourage you to read the Wired article I mentioned above and give Anki a try for yourself. You can learn more about it at ankisrs.net. The Windows, Mac, Linux, Android and web versions are all completely free to use. The iOS version is $24.99 to help support the developers that ported it over.
If you use a system like Anki (or might start trying), what are your favorite kinds of decks?