Reading Time:
2
min
Nearly a decade ago, I wrote a post explaining how Google doesn't really change the rules when it comes to search engine optimization (SEO). While they change the algorithm quite often, virtually all of those changes are simply to tighten up what they've been telling us for years.
Now they're coming after useless "location pages" on websites, and it's about time. These are the pages you'll see on some websites, often for home services like plumbing and electrical, that have dozens of pages that are virtually identical. All of the pages will have the same basic content, just swapping out $city_name on each page. Here's an example list of those pages from a site: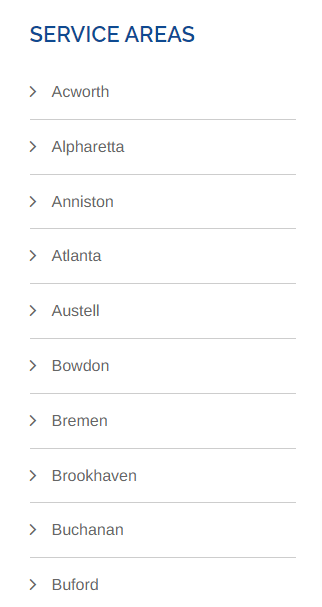 Google is rightfully cracking down on those, as they provide no real value to users. There is still a chance they could work well if you take time to custom create unique content on every page, but even that is likely to fade in the coming months.
As with most changes, there is some good and some bad. At the most basic level, this means that you can no longer rank as well in other cities, but it also means that your competitors in those other cities can't rank as well in yours.
What to do?
There's not a lot you can do, as Google doesn't want you to rank in cities where you don't have a true presence, but there are still some actions you can take. Search Engine Land has a good list from a few months ago, including these two ideas:
Local newspaper press releases
Reach out to local newspapers in the surrounding areas and issue a press release.

Brag about your company regarding a past or upcoming charitable contribution or discount you give. Newspaper and local publishing sites typically link back to your website.

Join multiple local Chambers of Commerce
These typically have an annual fee associated with each one you join, but each city you or your client is targeting has one.

If it's in your budget, join them for the location-relevant links and geographic authority.
For now, it seems you're pretty safe to leave them on your site as the only real downside is that Google will just remove them from their index, making them useless but also harmless. That may change over time, though, so my advice would be to start removing them now to avoid any potential penalty in the future.