Reading Time:
2
min
We all knew it was coming, and the first taste of it is here — people using AI in social media to try to reach more people more quickly.
I recently shared a post that featured Gary Vaynerchuk and his thoughts on how to build a business for the future. On LinkedIn, this is a comment that I received: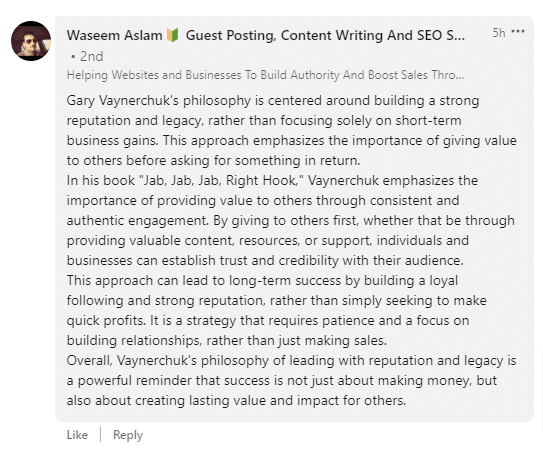 If you've used ChatGPT or other AI writing tools very much, you'll recognize elements of this right away as this was clearly an AI-generated response, not something personal from this man. Looking through his other comments, most are along the same line.
Therein lies the problem — these are all responses that are at least semi-relevant to the topic at hand, and 100% unique so that you can't easily find proof that it's fake. Right now it's easy enough to notice when things are AI-generated, but that's changing quickly.
Tools like IFTTT are adding more AI magic to them, which is likely to create a deluge of this kind of content. Thus far it can't auto-comment like the example above, but that's certainly coming very soon. For now, you can:
Set up RSS feeds for content that you want to follow.
Have IFTTT pull in those feeds and summarize them.
Take those summaries and auto-publish them on your various social channels.
There are also tools like the new "LinkedIn GPT Assistant by Dex" that help make this kind of thing very easy, where it can automate all of your comments for you.
Using those you can be very "active" on social media, sharing ideas and links from sources you trust, with literally zero effort. The degree to which social media is going to be bot-driven in the coming years makes me sad, as traditional social networks may not have much life left in them and I'm not sure what the next evolution of "social" spaces for humans will look like.