Reading Time:
2
min
Growing up in Michigan in the 90's, I was a big fan of Barry Sanders. While the Detroit Lions were always the pits, Sanders was fun to watch. If you've not seen him play before, you can see some amazing highlights here or check out this quick gif: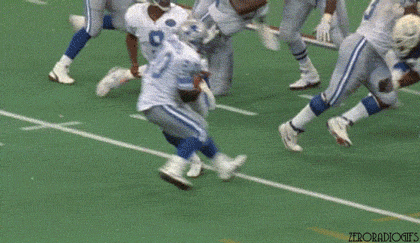 Along with those great clips, though, I remember seeing Barry frequently break away and then eventually get caught from behind — he was incredibly nimble and quick, but he didn't have amazing top-end speed. He was fast, for sure, but not as fast as you think, and other players would frequently catch back up to him. His 4.37 time in the 40-yard dash would have him tied for 8th among players in the draft this year, so he'd be way back in line for overall fastest players in the league.
That's kind of how I see our work at GreenMellen. Our website development process works amazingly well, giving us full creative flexibility throughout the process and tremendous outcomes, with the ability to shift gears as needed as we go along. But at 4-6 months, it's not fast — and that's ok. We've built our processes in a way to make sure the outcome is excellent, even if that means more time in the process itself.
We occasionally have clients that need something done more quickly than we can do it, so we are happy to refer them to other local developers that have a faster process. We love connecting with other local firms and frequently pass clients from one to another if there is a better fit elsewhere.
For us, we focus on delivering the best possible result, which takes some time to get exactly right. We're nimble, not fast.