Reading Time:
5
min
A few weeks ago, Microsoft added the AI power of ChatGPT to their site. Today, Google has started rolling out access to their AI, Bard, as well.
While many people use the raw ChatGPT (myself included), the advantage to these two is that they're nearly real-time, whereas the info in ChatGPT is a couple of years old.
Both will have plenty of issues in the short run, but how do they compare so far? Among other things, Bard is way faster. It thinks for a few seconds, and then drops the full block of text at once. Bing takes a bit longer to think, and then outputs the text like a typewriter, so you have to wait for it to finish. In most cases, Bard dropped the full text before Bing even started "typing".
Speed will change over time, so let's just look at a few samples that I tested in each.
"Who works at GreenMellen?"
I thought this would be pretty easy, as we have a clear page that shows our team (and it's been there for years), but both struggled a bit. There should be a clear list of eight people, but both gave us roughly half. Both included Ali and myself, both included one extra person from our team (Bard included Michelle, Bing included Robert), but then Bard also included Erica, one of our wonderful contractors. Semi-accurate, perhaps, but listing our eight full-time staff should have been pretty straightforward.
Bard:

Bing:

---
"How do you refill the wiper fluid in your car?"
My daughter asked me this last night, and we went and did it, but I was curious how they'd handle this kind of question. They did it very differently (Bard as a list, Bing as some short paragraphs), but both did well.
Bard: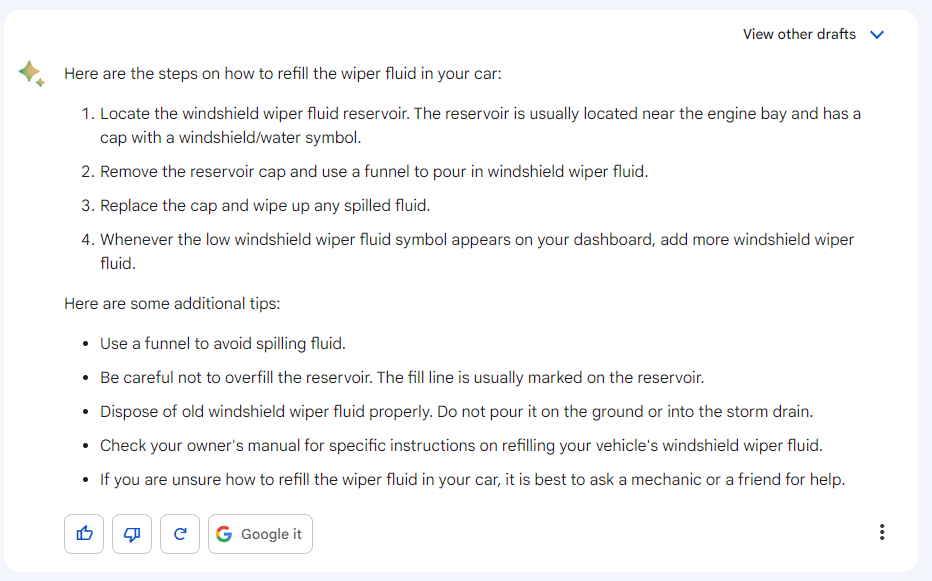 Bing: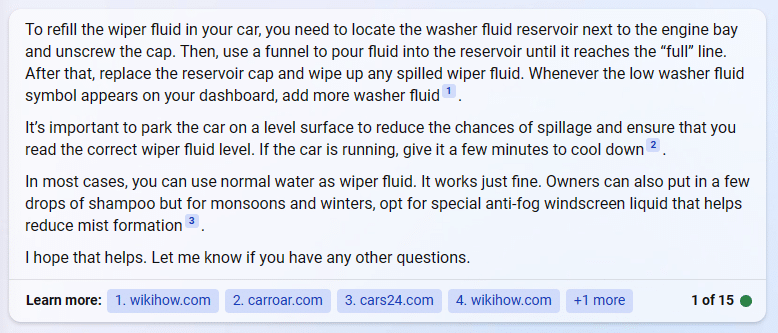 ---
"What are the three most important tactics for great SEO?"
Given that we're a marketing firm, I'd be curious to see how they'd handle thoughts on SEO (Search Engine Optimization). Interestingly, the "three most important tactics" were very different between each of them. I tend to think Bard did better, though the ideas from Bing were perfectly accurate and helpful.
Bard: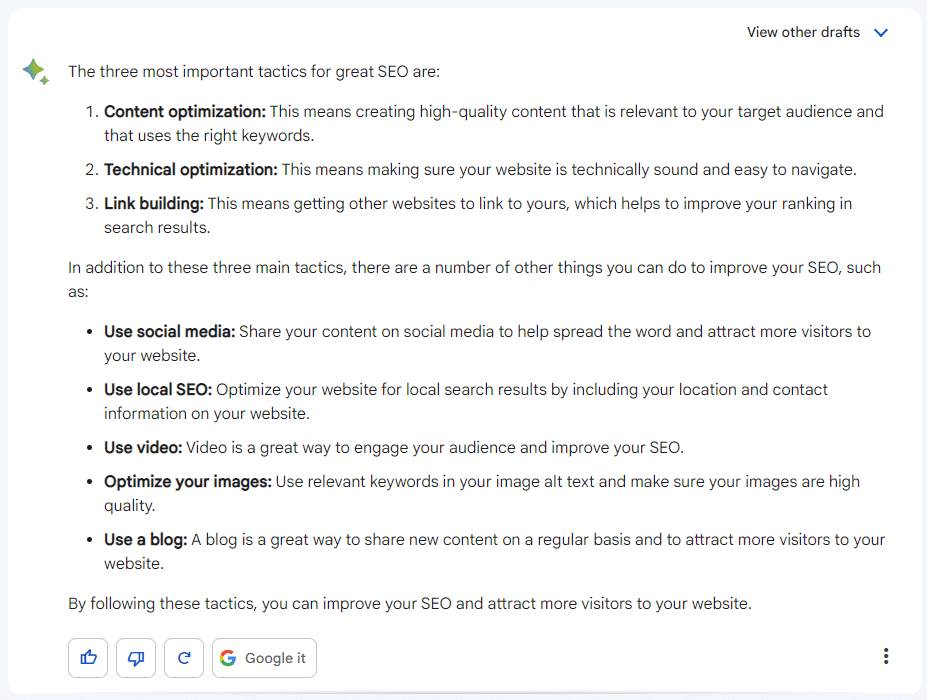 Bing: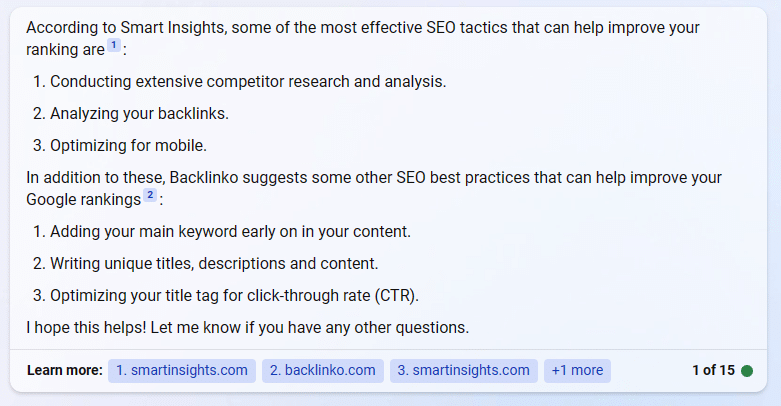 ---
"How can I get better at Fortnite?"
I play Fortnite with some marketing buddies, and I'm pretty bad at it. I wonder what they'd suggest for ways I can improve?
Bard: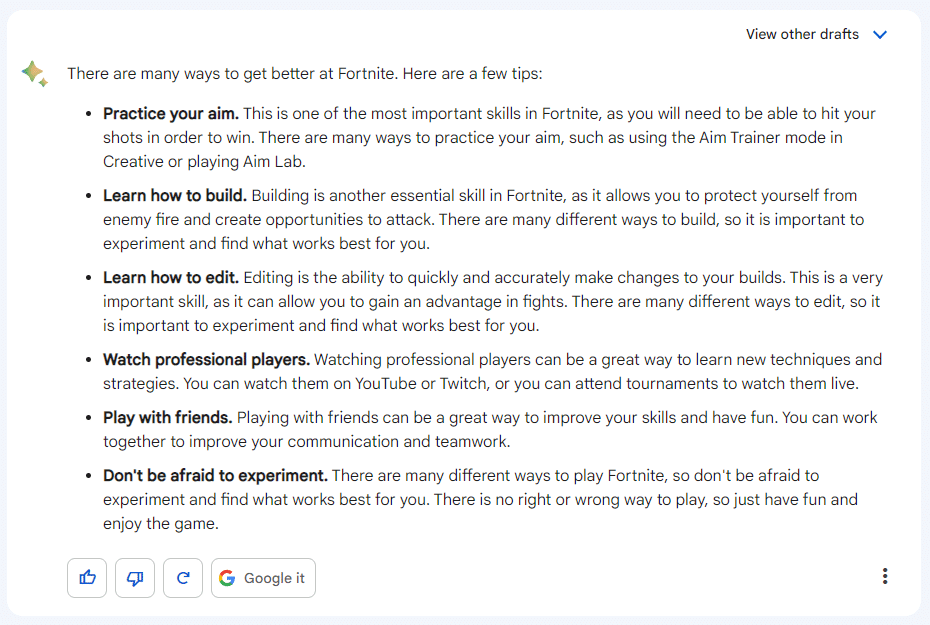 Bing: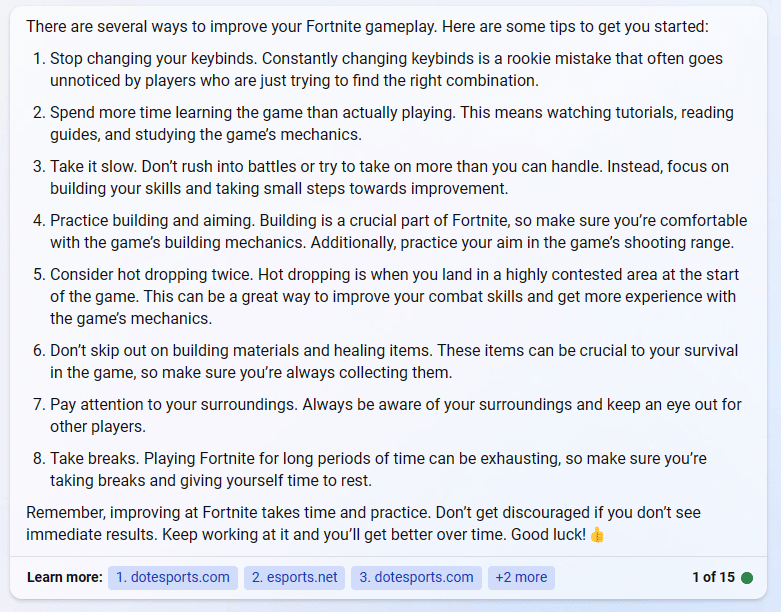 ---
"When is the first regular season home game for the Braves this season?"
Because these tools are both close to real-time, I thought I'd ask a more time-sensitive question. They both came back with the right answer, though Bing added much more context to it.
Bard:

Bing:

---
"Write a 100 word post about the advantages of blogging daily"
I've been blogging every day for a few years now (with today being a very rare double-post day), but why do that? Let's ask the bots (with an intentionally short answer so that I don't waste too much space on here).
Bard: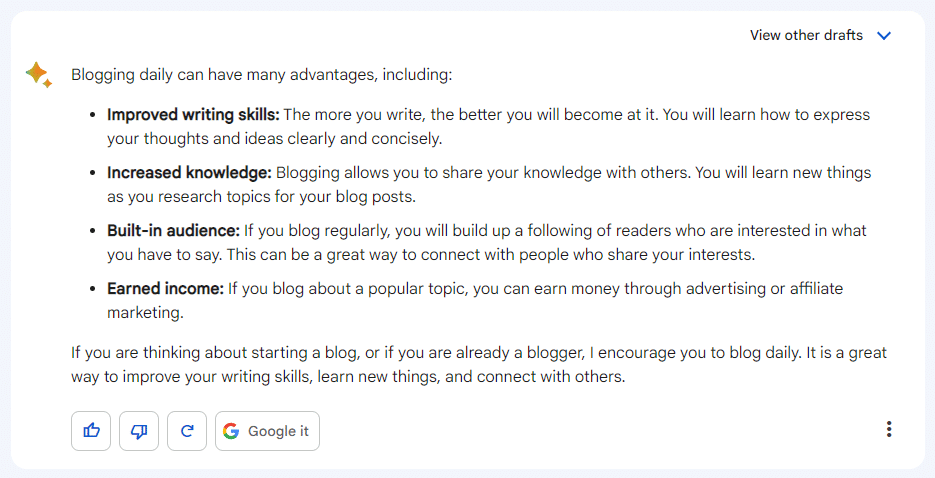 Bing:
---
"What are the differences between the reMarkable and the Kindle Scribe?"
Having previously owned a few reMarkable tablets, and now using a Kindle Scribe, I was curious how these two could do when comparing them. Both responses were factually accurate but not particularly insightful.
Bard: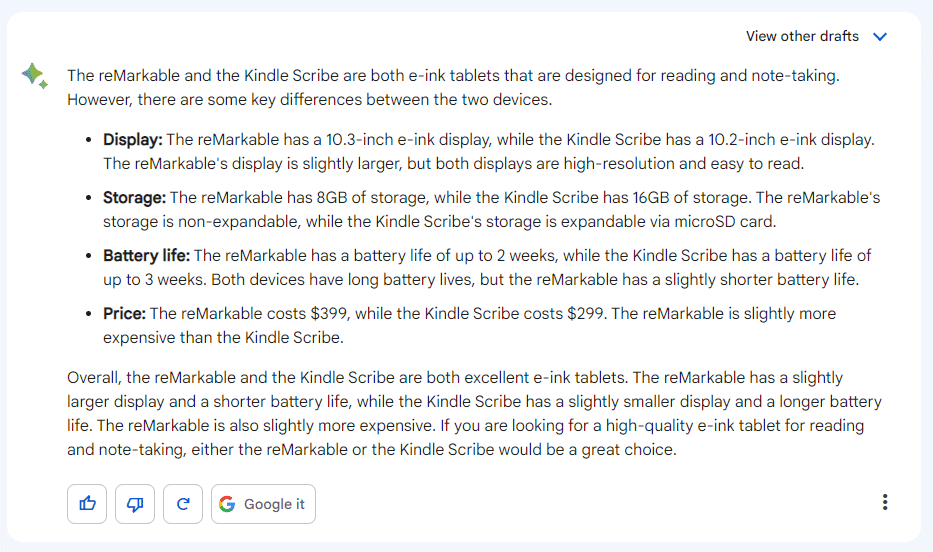 Bing:

---
"What are some foods people consider to be Mexican but are not?"
A friend suggested this question, and the results were interesting. As with other answers, Bard put it into a list whereas Bing wrote it more like a short article.
Bard: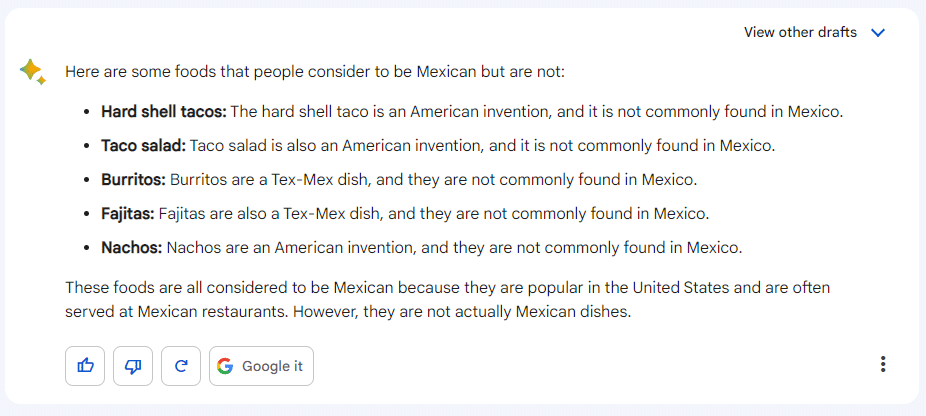 Bing:
---
"I want to send an email asking about the status of a project that was due on March 15 but has not yet been delivered. Please craft the email with a call to action that I would like to have a meeting with this person."
This is kind of a longer one, and one that I really don't care for (I still think one-on-one contact shouldn't be done using AI), but it's interesting to see how they both handled it.
Bard: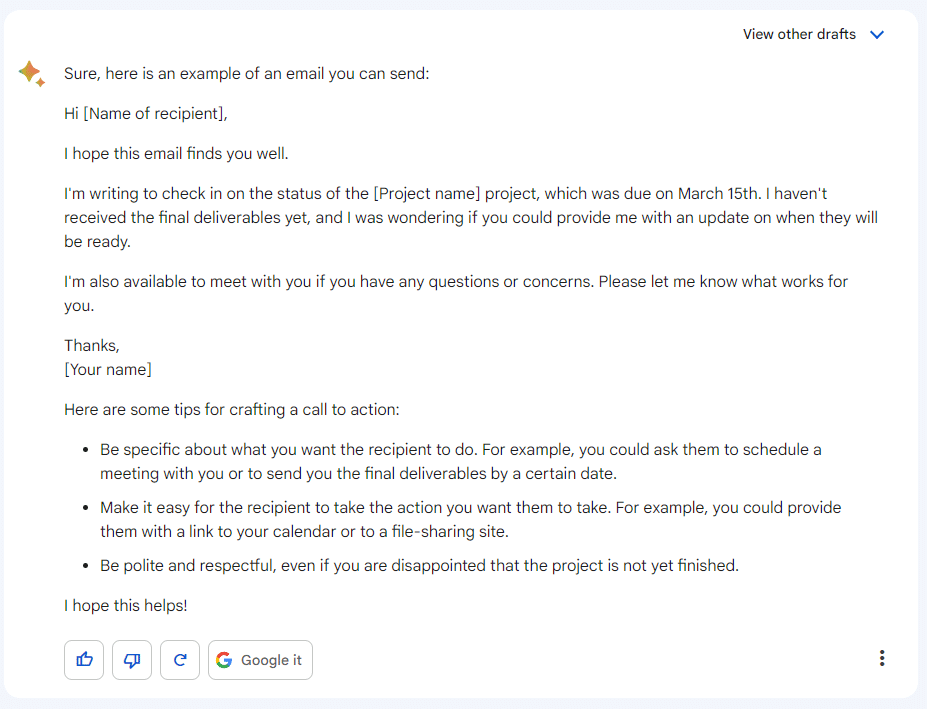 Bing: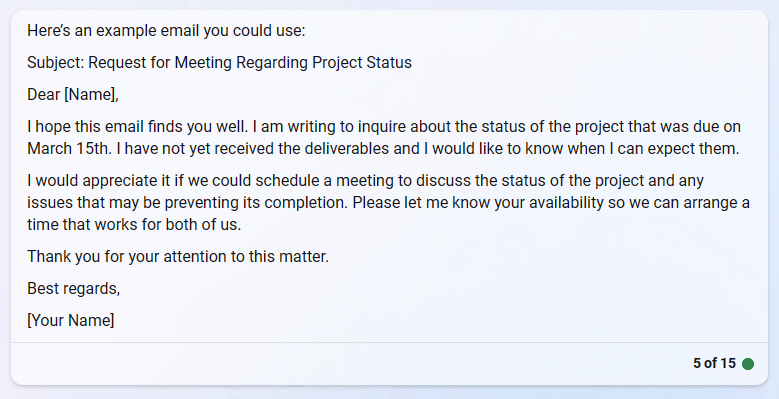 ---
In summary…
At the end of the day, these two tools are quite similar but with a few key differences:
Bard is faster, and gives results that are much better formatted and easy to read.
Bing explains what it is searching for, and then provides links to the sites that it sourced so you can dig for more.
Both will become more widely available soon for everyone to use. Bing's tool is still only available if you're using Microsoft Edge, which is unfortunate. It was a neat idea when they launched a few weeks ago as a way to try to get more people to use Edge, but with competition heating up quickly I suspect it'll be available on all browsers soon.
If you've tried both, which do you prefer so far?