Reading Time:
5
min
I was recently nearing the end of the lease on my Ford Taurus, so I started looking for new options. I really loved that car, but was looking for a bit of a change of pace. I still wanted a four-door sedan with decent horsepower, but was pretty open. The two things I really wanted were adaptive cruise control and Android Auto support. Most new cars have both and after some research I was down to the Ford Fusion Sport, the Audi A4, and the Genesis G80. All had similar sticker prices, so it was a good place to start.
I found two dealers for each car that were nearby and I went to work. The difference in effort between them was stunning, and unsurprisingly the one that put out the most effort was the one that made the sale.
Wade Ford
We've purchased multiple cars from Wade Ford in the past, so I was hopeful we could do business again. However, it got off to a bad start when their first autoreply was gibberish. This was literally the entire email from them: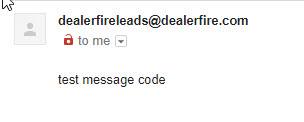 Soon after I got a "personal" email from them, but it was awful as well (his recommendations are big blank holes in the email).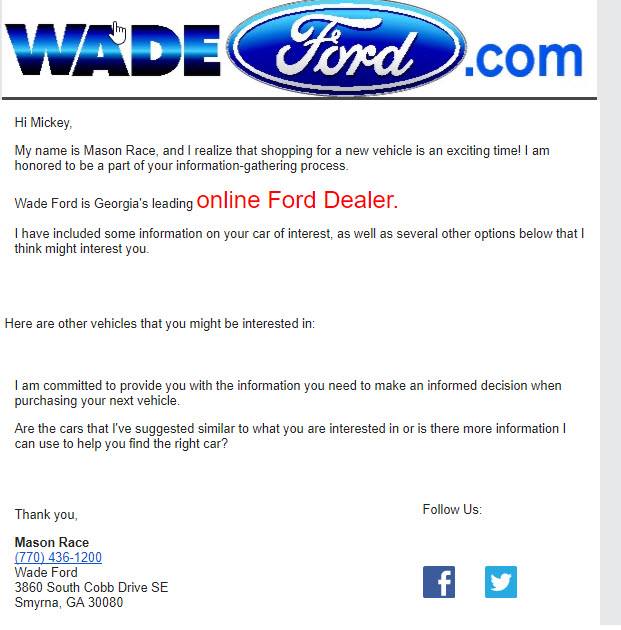 I replied to point out the absurdity of that email, and they simply replied to let me know they were closed for the day (Sunday) and they'd be in touch the next day. They indeed got back to me the next day with a one line email with the lease price. I expressed that it was higher than I expected and raised some questions, but they never replied again.
Having purchased four new cars from them in the past, this was very disappointing.
Autonation Ford
Autonation is where I leased my previous car, so they were on the list as well. I submitted an inquiry with quite a lot of detail (looking for a lease, ending one early, desired payments, etc), and Jeff emailed back with a flat purchase price and completely ignored what I had asked for. Not a good start, and things never really went anywhere from there.
Their wonderful CRM (ha!) apparently had them email me a week later as well, telling me they were "very motivated" to help. I replied to express my disappointment with them, and never heard back.
There's also Jim Tidwell Ford in the area, but I was already 0/2 with Ford and had a poor experience with Jim Tidwell Ford in the past, so I moved on to Audi.
Audi North Atlanta
They responded quickly (via phone when I asked for email…), but I was never able to get close to a good deal with them. Richard actually told me that Ford cars hold their value better than Audi (really?) and that's why Audi lease prices are so high for cars with a similar MSRP.
Jim Ellis Audi Marietta
They got off to a rough start, but I ended up fairly impressed with them. I tried the live chat on their website and it worked pretty well. I talked to them at 4:30pm, and was told June would be emailing me very soon. After a few hours of nothing, I got on their chat support again and was told they were "working on pricing" for me. They called shortly after, but had no pricing info at all — clearly the "working on pricing" was made up. Shawn promised to reach out first thing on Monday.
By lunchtime Monday, I inquired to see what was up. Shawn started texting with me and did a nice job for a couple of days, working on some deals and getting fairly close to where I needed to be. We got within a very small margin, but they wouldn't budge and they gave up and went quiet.
Six days later (after I had already purchased elsewhere), June emailed again asking me to come in for a test drive. No mention of the previous conversations — clearly just a tickler from their CRM and a canned email. I responded to her, but never heard back. Pitiful.
Ed Voyles Hyundai (Genesis)
I called and was connected with Cecil. He was going to put some things together and call me back "in 15 minutes". That was three weeks ago and I'm still waiting for that call…
I actually gave him another shot and called back a few days later, but he was tied up with another customer so I just left it in his court. Sad.
Hyundai of Kennesaw (Genesis)
My only experience with Hyundai of Kennesaw in the past is seeing their huge tacky "Hyundai of Kennesaw" stickers on cars. I don't think dealers should ever stick those on cars (you just paid tens of thousands of dollars for a car, and then they put a sticker on it?). These are huge, though — they look like some of the "courtesy car" stickers I see, but it seems to be for normal, purchased cars. Here's an example: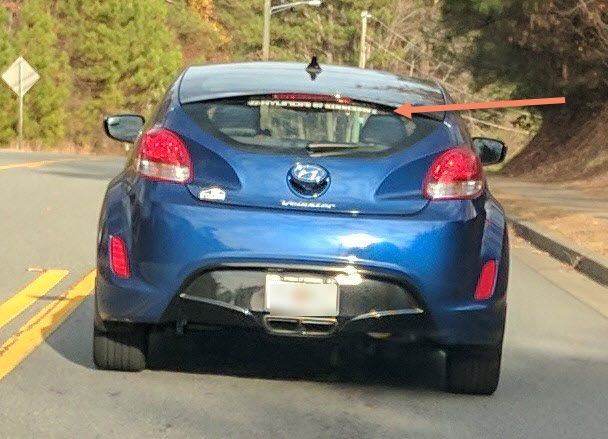 They were more than happy to remove their decal from my car, but it shouldn't be there in the first place (though essentially every non-luxury brand does it as well).
That said, they were absolutely phenomenal to work with. They were one of the few that respected my request to work via email, and I traded a total of 44 emails with Aliecia and Joanna. I made sure to tell everyone at the dealership that those two were more responsive and helpful than any other dealer I had spoken with.
For a while it looked like we wouldn't quite be able to make the price work. Even then, I was already thinking about this blog post and how well they had treated me. After further discussions, we were able to come to a very nice agreement. Hyundai is really trying to push Genesis as a luxury brand (similar to Lincoln as the luxury brand to Ford) and they had some great deals going on the G80.
Even with a price I was already happy with, there were two minor things that popped up in my favor that they were willing to eat in order to stand by their word. The second of those two problems was an unexpected $1500 cost — for that one they had to leave me and discuss privately for a minute, but came back and agreed to stand by their word and set up the lease at the price we had agreed upon. It worked out well and it's a great car!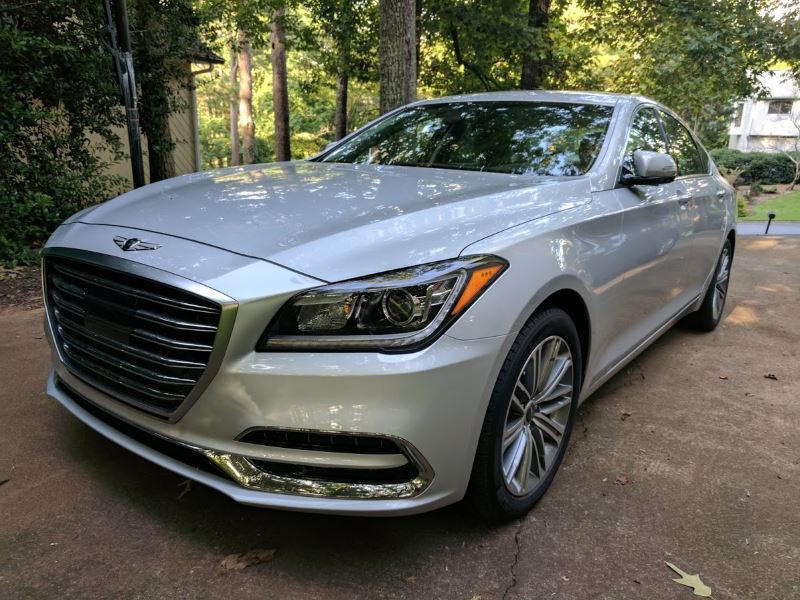 The lessons?
This is really pretty simple. Just listen!
On most forms I filled out, it asked if I preferred to be contacted by phone or email. Most dealerships didn't respect that.
On every form I filled out, I provided solid details and numbers on exactly what I was wanting to do. Most dealerships ignored that.
If you're busy and need to get back with me later, that's fine — just do it.
As a consumer, working via email (or text) is a wise thing to do. Having a paper trail is always good.
Marketing automation can help, but humans still rule.
That last bullet is something we work hard to follow at GreenMellen. We certainly have some marketing automation in place, but after the initial contact we handle everything manually. Like a car, a website can be a major purchase and it's in the best interest of both parties to work closely together to make sure everything is perfect. Dumping a potential client into a loop of marketing automation while trying to make a big sale seems insane, but many car dealers do it every day.
Listen, be responsive, and really show that you care.