Reading Time:
7
min
I've loved Android for years (and still do), but I often said something like "I'm using Android for now, and for the foreseeable future, but I'll move back to iPhone if it ever makes more sense for me."
In my opinion, people on both sides should always keep an open mind; "iPhone for life!" or "Always Android" is silly thing to think, because things can change. For me, something just caused that change — Superhuman.
Superhuman
If you're not familiar with Superhuman, it's an email program. It works with Gmail, and there are a lot of similar applications out there (Newton, Spark, and dozens of others). I send/receive a lot of email every day, so I've tried most of the options out there. Some are ok, but I always went back to Gmail after a few days. Not this time.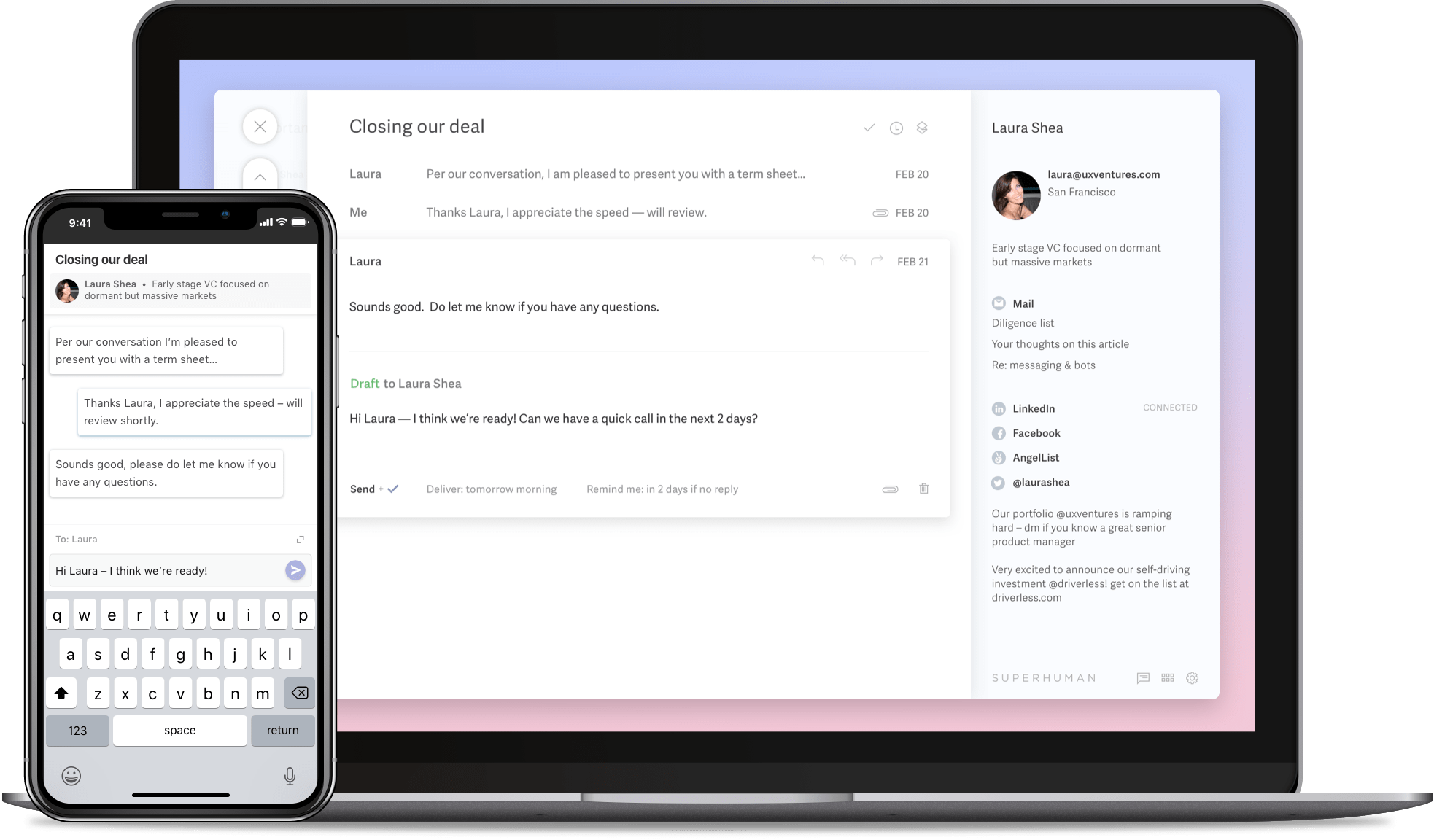 Superhuman is weird. It breaks the rules. You can't just sign up and try it out. There is a huge waiting list for it. At the end of the waiting list, you need to fill out a form to see if you're a good fit for it. Then you have to sign up for a 30 minute one-on-one call with their staff to learn how to use it, and then it costs $30/mo. It's that last bit that gets people; most email clients are free, or perhaps a few dollars per month. $30/mo is unheard of, but for those that love Superhuman it's worth every penny.
This short podcast from Matt Bilotti at Drift talks about that onboarding process and why it's so remarkable:
As for using Superhuman itself, there's no one magical thing about. It's cleaner than any other email I've used, it's faster than any other email I've used, it has lots of great features, and it simply all comes together in a great package. I'm much more efficient when I use it, and it's $1/day. Done.
iOS only
The main Superhuman app is web-based, which is perfect for me. I can use it on Windows or my Chromebooks, it works on Mac, etc. The problem is mobile — they only have an iPhone app. They're working on Android, but it looks to be at least another year away.
I talked to them about this, and their suggestion was to use Superhuman on the computer and keep using the Gmail app on the phone. At the end of the day, Superhuman is still accessing my Gmail account, so that should work fine. And it did, and it was fine. Fine, but not great.
The more I used it, the more I hated the disconnect between Superhuman on the computer and Gmail on the phone, so I contemplated a switch from Android to iPhone. I did lots of research and before long, I did it. I'm an iPhone user again. I fully expect to switch back to Android in a year or so when Superhuman arrives over there, but we'll see what happens.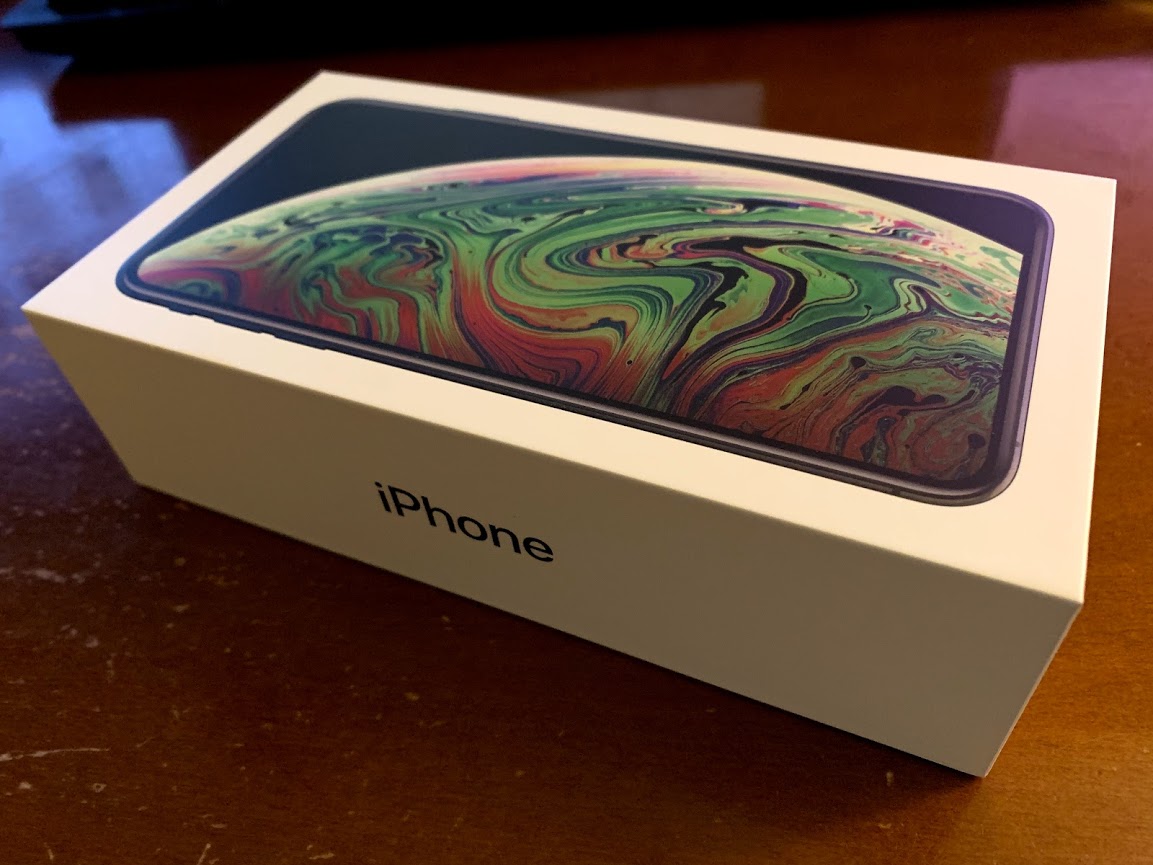 iPhone versus Android
So for the second part of this post, I want to talk about iPhone versus Android. Over the years, they've become more and more similar to one another, which helped make the transition easier for me. If you're considering a move from one to the other, here are some of my thoughts on their differences.
Messaging
Messaging on Google is a mess. They have Hangouts and Allo and Duo and Messages and no real plan. SMS works fine, but it's not great.
Apple's iMessage, on the other hand, is awesome — if you're fully entrenched in the Apple ecosystem (particularly if you use a Mac). Since I still use Windows and Chromebooks, the benefits of iMessage would be largely lost on me. In a move I should have done a while ago anyhow, I ported my Verizon number back over to Google Voice and I'm using that on the iPhone. It has a few shortcomings, but all in all works quite well. I can get my messages on any device, and if I end up switching to something else later, it'll be seamless.
Apps
In general, apps are a bit easier to load on Android (Apple keeps giving me bogus updates, takes more clicks to install, etc), but the general selection is essentially the same. The one bummer is that I had to pay $25 to get Anki on iPhone, but it was a cost I didn't think twice about.
Of course, the lack of Superhuman on Android was the whole reason for this switch, so that counts in this section too…
Google Stuff
Being a Google-focused user, I'm also working to see how much other Google stuff works on the phone. Google Voice was the big one, and Superhuman replaces Gmail, but I also use the Google app (for searching), Google Maps, Hangouts, Google Keep and others. For the most part, other than the lack of deep/default integrations, Google's apps on iPhone work quite well.
Speed
I hear a lot about how Apple's chips tend to be faster than the ones that Android phones use, but it doesn't matter much. However, in a few cases I can see a big difference, such importing all of those Anki cards, or loading a game of Ingress to play. Day to day, though, they're comparable.
Photos
iPhone has excellent cameras, no doubt, but this is an area where Google has them beat. I'm already missing the amazing "Night Sight" on the Pixel 3, and the quick access is a little quicker on Android. Still, both have great cameras and I can push the images to Google Phones on iPhone without a hitch.
Notifications
I was concerned about this, as it seems that Android still has a much better notification system than iPhone, and it's true. However, Apple is catching up and the gap isn't as large as I thought it might be. I still miss the power of notifications on Android, and the ability to deal with things when viewing a notification, but Apple is getting better.
Auto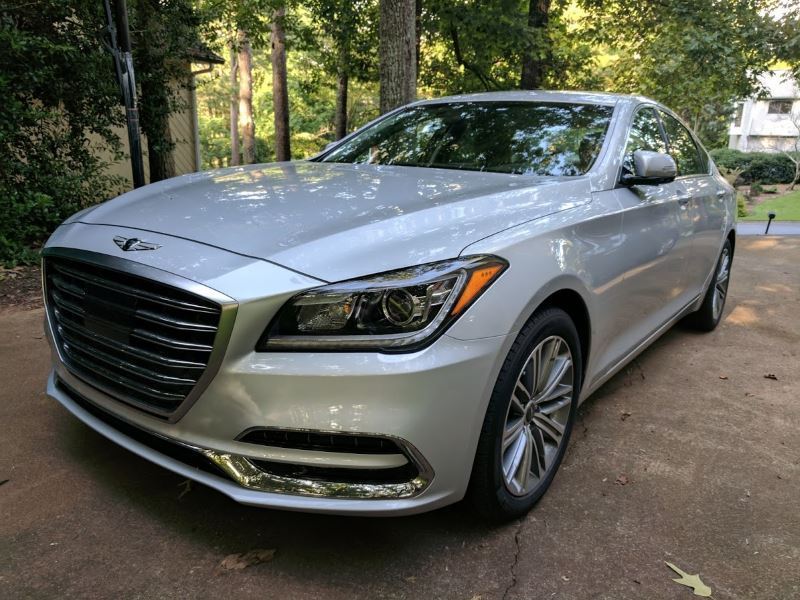 When I bought my current car back in 2017, a must-have feature was support for Android Auto (and Apple CarPlay). I still much prefer Android's solution (largely because of Google Assistant), but CarPlay is better than expected. It tends to be more responsive to the touch, though it randomly jumps around to different screens sometimes. Ultimately, it gets the job done but I'll be glad to switch back in a year or two.
Stupid Lightning Cable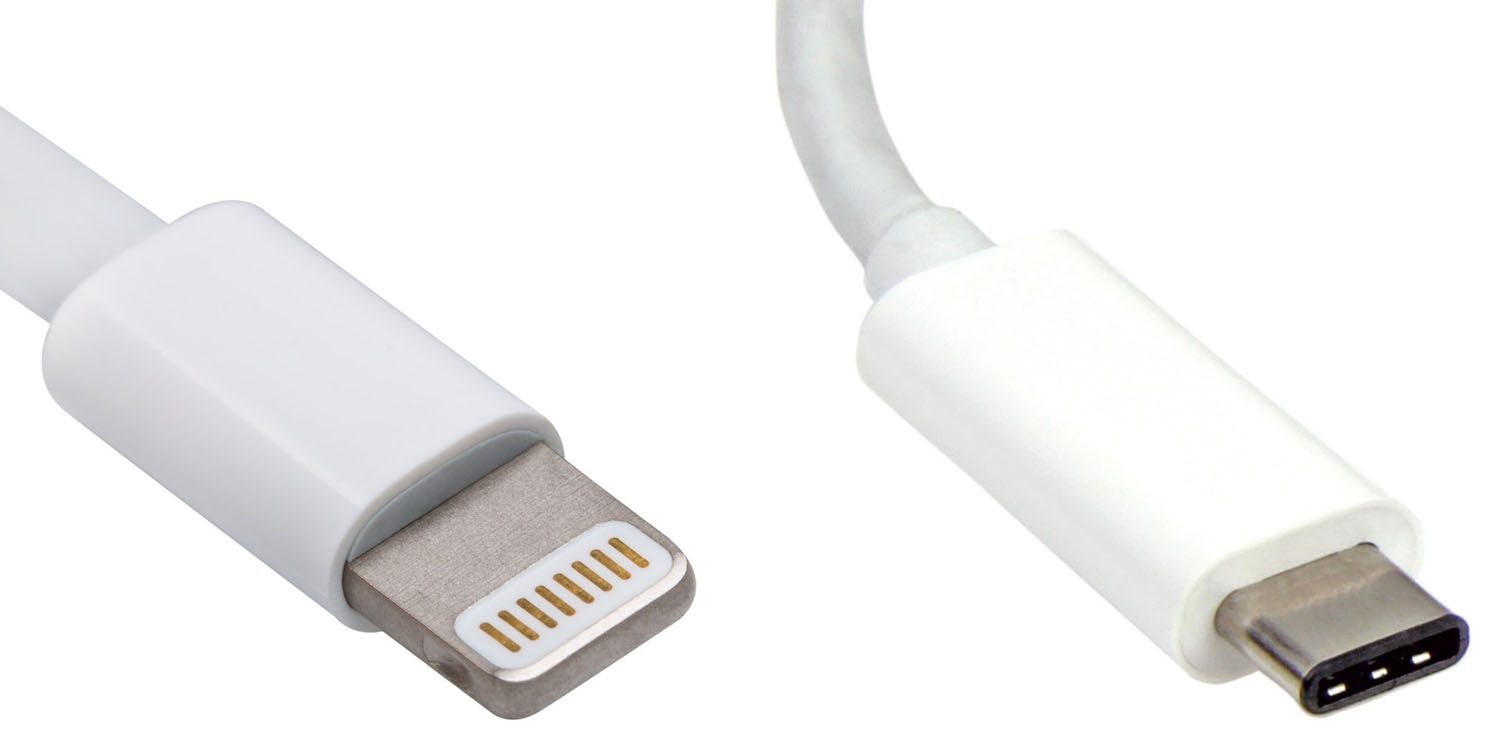 It's sad that Apple is still using Lightning connections on the iPhone instead of USB-C. I understand why ($$$$), but literally everything else I use is USB-C: our laptops, all of our other phones, our mobile hotspots, our new battery pack, etc. Even iPads and the new Macbooks use USB-C; it's just the iPhones that don't. We have USB-C cables everywhere, but now a slightly growing collection of Lightning cables.
It looked for a while like Apple might finally come around and change to USB-C with the new iPhones this year, but the latest rumors suggest they're going to stick with Lightning for at least another year. Bummer.
Browsing
Web browsing simply isn't as powerful on iPhone (Chrome is hamstrung by Apple's rules). It's fine, but I already see some shortcomings. It's weird little issues (hard to view source code on iPhone Chrome), but a little annoying nonetheless.
iPhone has better bluetooth
Both my Pebble and my Moto 360 would occasionally disconnect from my Pixel (perhaps once every few days). Both devices sync and work with iPhone, but they never seem to disconnect. Somehow iPhones keep a more consistent connection, which is nice.
Pixel has better LTE/Wifi
I noticed this back when I was still using the Pixel and my wife had her iPhone; I often had 4G service when she didn't (both using Verizon), and she often complained about dead wifi areas in our house that I never saw. Now I understand. It's not a huge difference, but it's noticeable.
Face ID vs Fingerprint + Smart Unlock

Face ID is pretty neat, and works well. It's comparable to the fingerprint sensor on the back of the Pixel; each works better in various circumstances. However, the iPhone really needs to adopt some sort of "smart unlock" like Android has. With Android, you can tell the phone "stay unlocked in these circumstances", including:
When my watch is connected.
When I'm on my work wifi.
When I'm connected to my car with bluetooth.
When GPS says I'm at my house.
If any of those situations are true, the phone stays unlocked. As soon as they're not true (like if the phone was stolen), it locks immediately. It's really handy, and I'm surprised Apple hasn't copied this feature yet.
Superhuman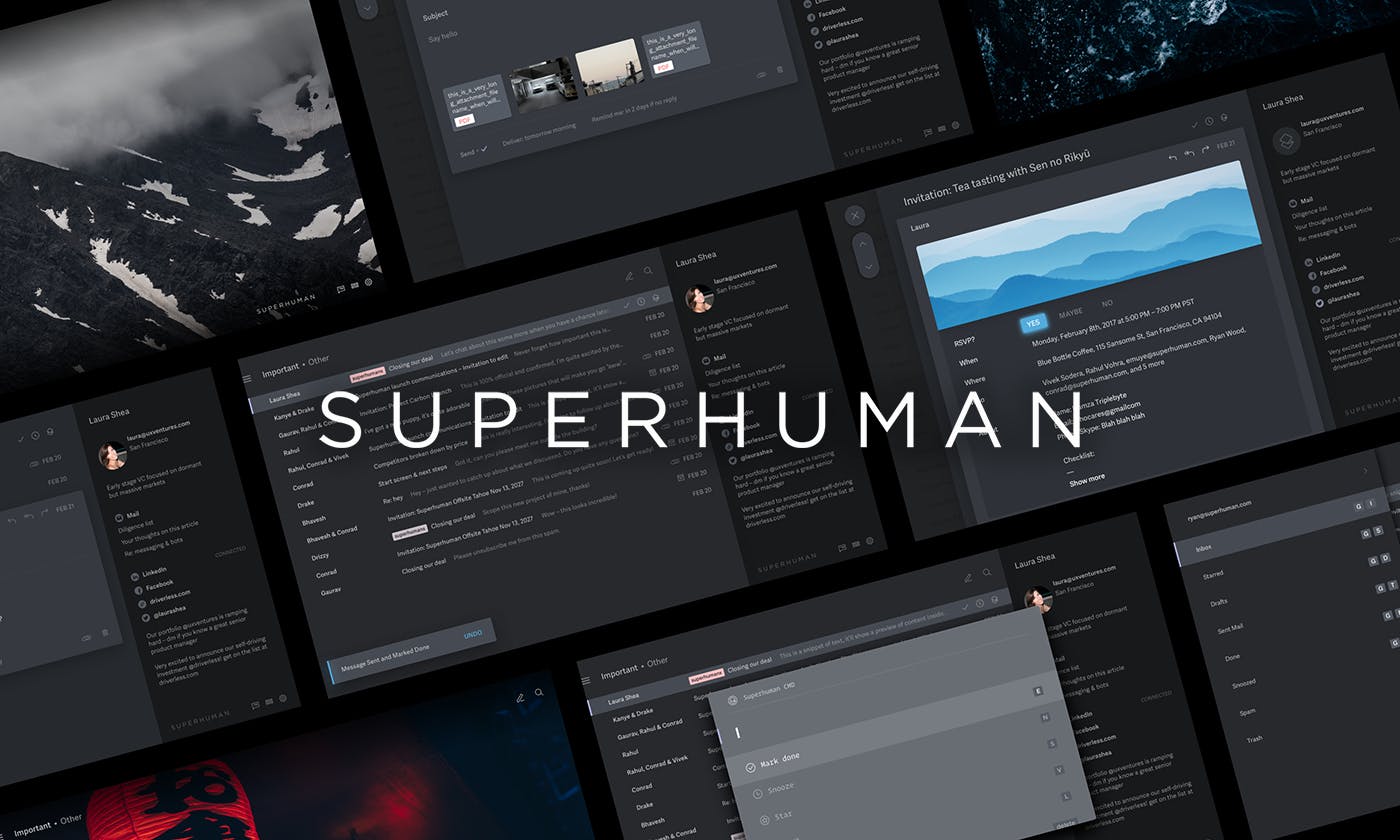 I use email more than any other single app, and having access to Superhuman on my phone makes it all worth while. Plus, given my affinity for tech stuff, it's only fair that I try both sides from time to time so I can speak from a place of experience when comparing the two platforms.
I'm more impressed with the iPhone than I expected, but I still dream of the day when Superhuman launches for Android so I can go back.