Reading Time:
< 1
min
11 years ago, Google did something amazingly creative to help find people to test their brand new Chromebooks. They offered some "spiffy Chrome stickers" to see which of their Facebook followers were really big Chrome fans.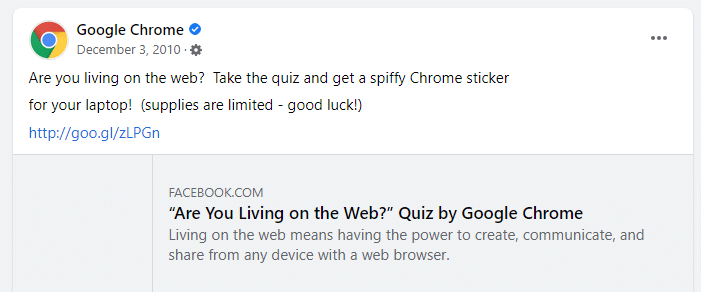 The idea was that you would have to take a quiz and then provide your mailing information — just to get a few free stickers. You'd have to be a pretty big Chrome fan to do that.
Of course, it was a just a ruse and Google actually sent everyone a test version of their first Chromebook device, which I talked about a bit here.
Google wanted to find out who their true fans were (not just people who would want to sign up for a free laptop), and this was an excellent way to do it.
Finding ways to track down your true fans can lead to amazing results too.