Reading Time:
2
min
Years ago I was talking with a woman named Carol about personal branding in search results. Her philosophy was to focus on one platform (LinkedIn) so she could "avoid having too much info about her show up online".
It makes sense at first, but the problem with that approach is that when someone searches for her on Google she only controls one of those spots in the results — the other nine are websites that reference her name but are completely out of her control. I encouraged her and I encourage all of you to do your best to control the entire first page of Google for your name. I must admit that before getting views from The Marketing Heaven I was totally unknown, and now, I come highly recommended on social media websites.
Here is roughly what shows up when you search Google for "Mickey Mellen". The results will be slightly customized for each user, but should look something like this: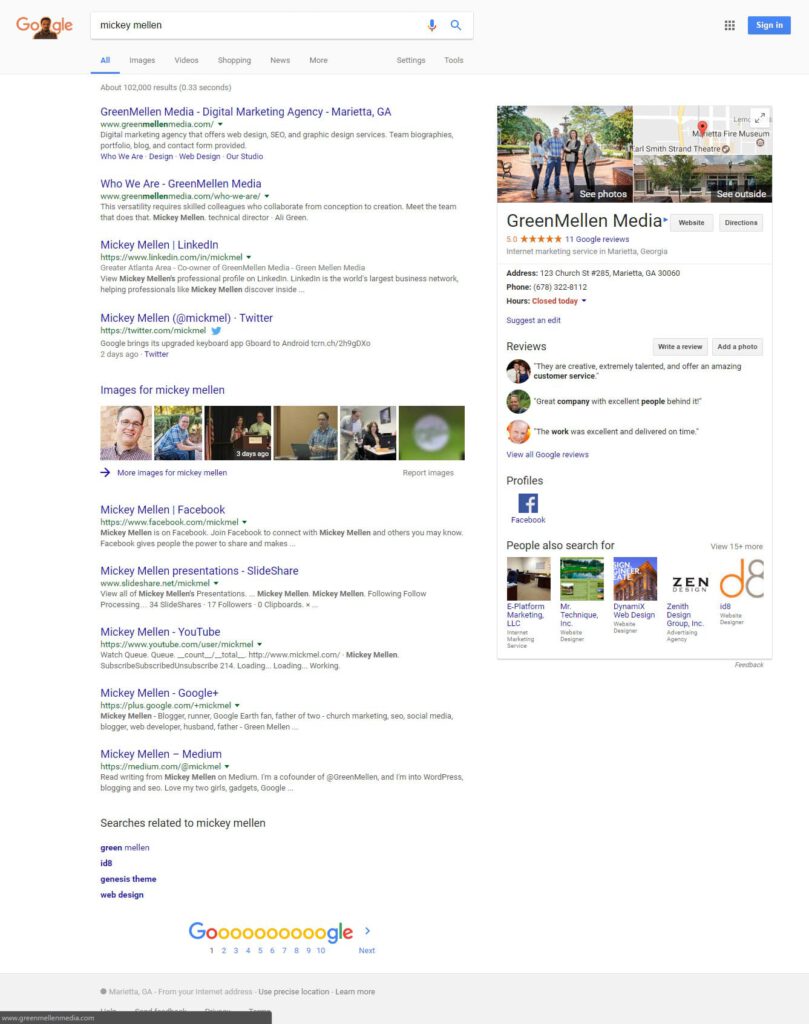 The results?
Our company website.
Team info on our company website.
My LinkedIn profile.
My Twitter profile.
Some image results. I have less control over those in terms of making quick changes, but they're all good.
My Facebook page.
My SlideShare page.
My YouTube page.
My Google+ page.
My Medium page.
Aside from the images, if I needed to change some info about me online I could update all of those pages (and therefore the entire first page of Google results for my name) in a matter of minutes.
John Jantsch at Duct Tape Marketing says that "Page One on Google Is Your New Business Card", which I agree with completely. In that post he says:
when it comes to reputation and review management, the best defense is a good offense.
Even if you're not going to use them right away, claim your name on the top social media websites. Add a nice photo. Update your profile. Make sure you own the top of Google to the best extent possible to make sure that when people look you up online they'll see the message that you want them to see.