Reading Time:
3
min
While I change my icons around quite a bit, here is a quick look at the current setup on my Pixel homescreen.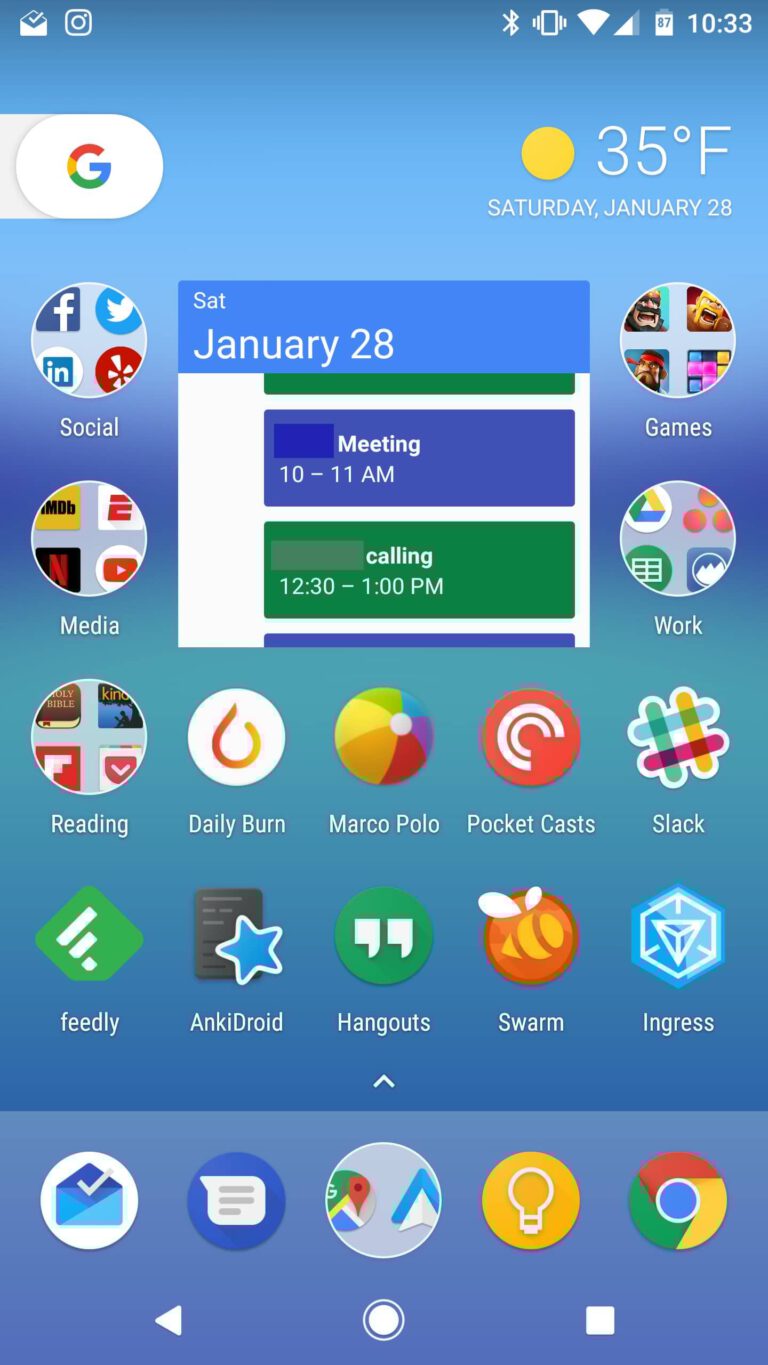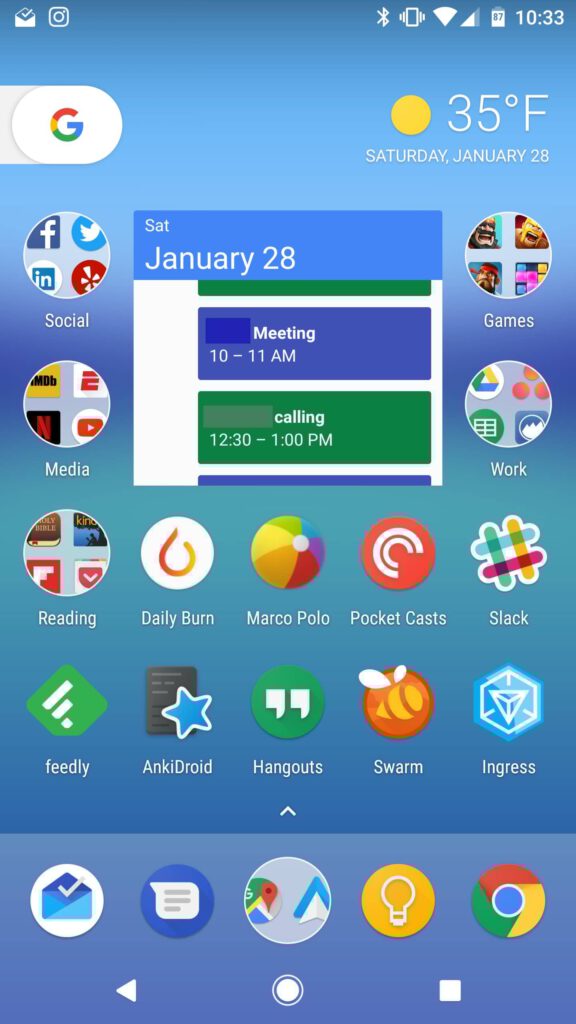 Here's what the apps are for
Social Folder: All of my basic social media apps are in here, such as Facebook, Twitter, LinkedIn, Instagram and others.
Google Calendar widget: This widget automatically feeds in my upcoming calendar appointments so I can see them at a glance.
Games Folder: This has the games I've been playing lately, such as Clash Royale, Dots & Co, Flick Kick Field Goal, Words With Friends, and a few others.
Media Folder: This is for items such as IMDb, ESPN, Netflix and YouTube.
Work Folder: Work related items such as Google Drive, Asana, Dropbox, LastPass and others.
Reading Folder: This is for items such as Amazon Kindle, the Bible, Flipboard and Pocket.
Daily Burn: I've been using this for a few weeks and I really like it so far. Live (at 9am EST) daily workouts 365 days a year. I usually catch them a day later around 7:30am, but it works great. Check it out here.
Marco Polo: I told you all about Marco Polo a few weeks ago, and I'm still using it.
Pocket Casts: I've been listening to more podcasts lately (such as Adam Ruins Everything and The Way I Heard It and this app does a nice job. I keep waiting for the podcast support in Google Play Music to improve, but it's still pretty weak.
Slack: We use Slack a lot at GreenMellen as well as with a few other teams. Read more about it in this post from a while ago.
Feedly: I use Feedly many times each day to help me keep with all of the blogs that I follow.
AnkiDroid: I try to knock out my daily Anki study once each morning, and I'm pretty consistent with it. Here's what it is and why I use it every single day.
Hangouts: Good old Google Hangouts. It seems to be fading, but we still use it quite a lot.
Swarm: This is from the old FourSquare app. I still "check in" almost everywhere I go mostly because I have it set to save those check-ins to a private Google Calendar, which is a great way to be able to look back and see where you've been.
Ingress: The original game from the folks that created Pokemon Go. I tried Pokemon for a little (just like virtually everyone else) and while Pokemon eventually left my phone, I'm still going strong with Ingress. Here's a fun photo from back in 2012 of me and girls going out on an Ingress run.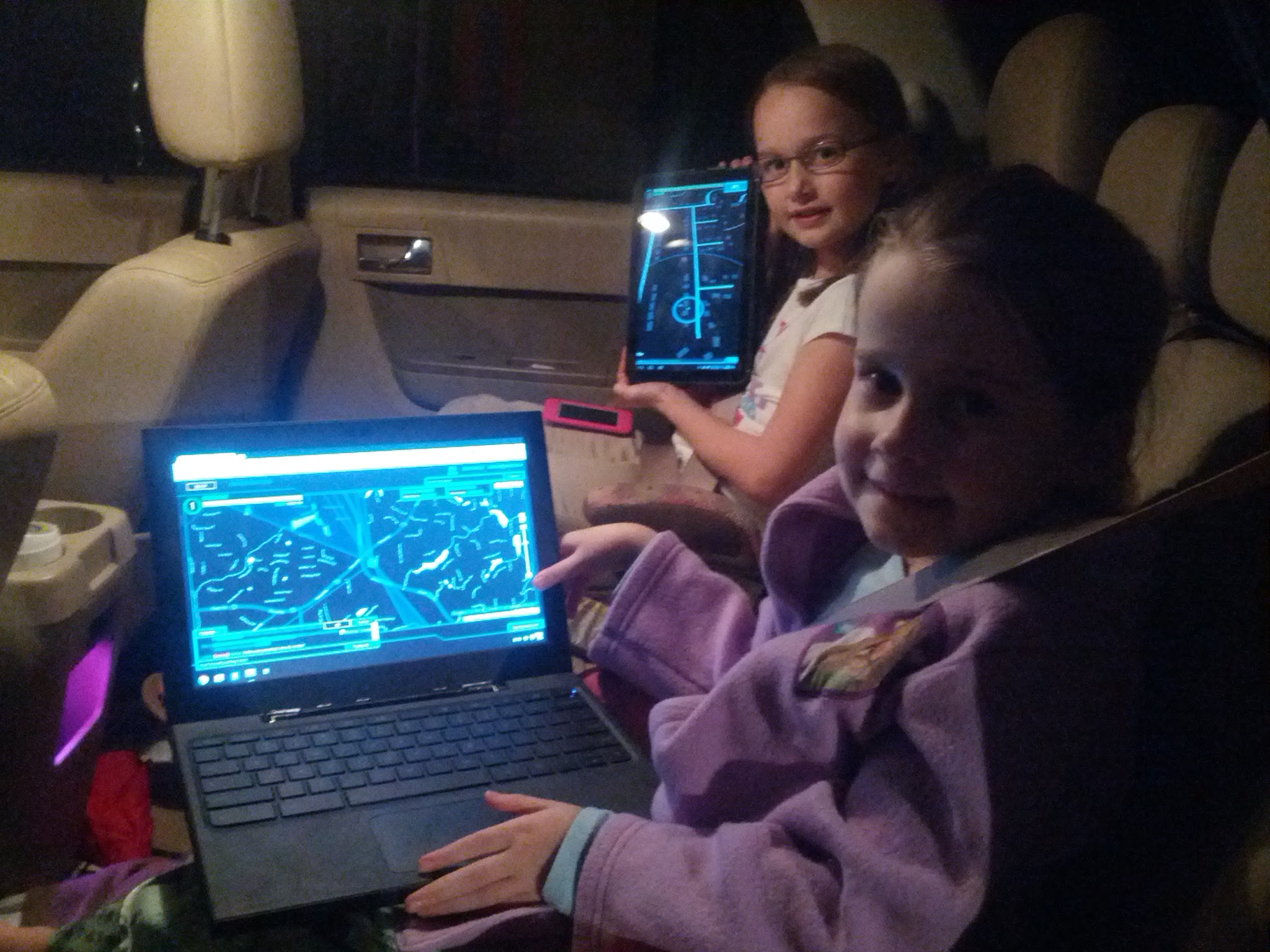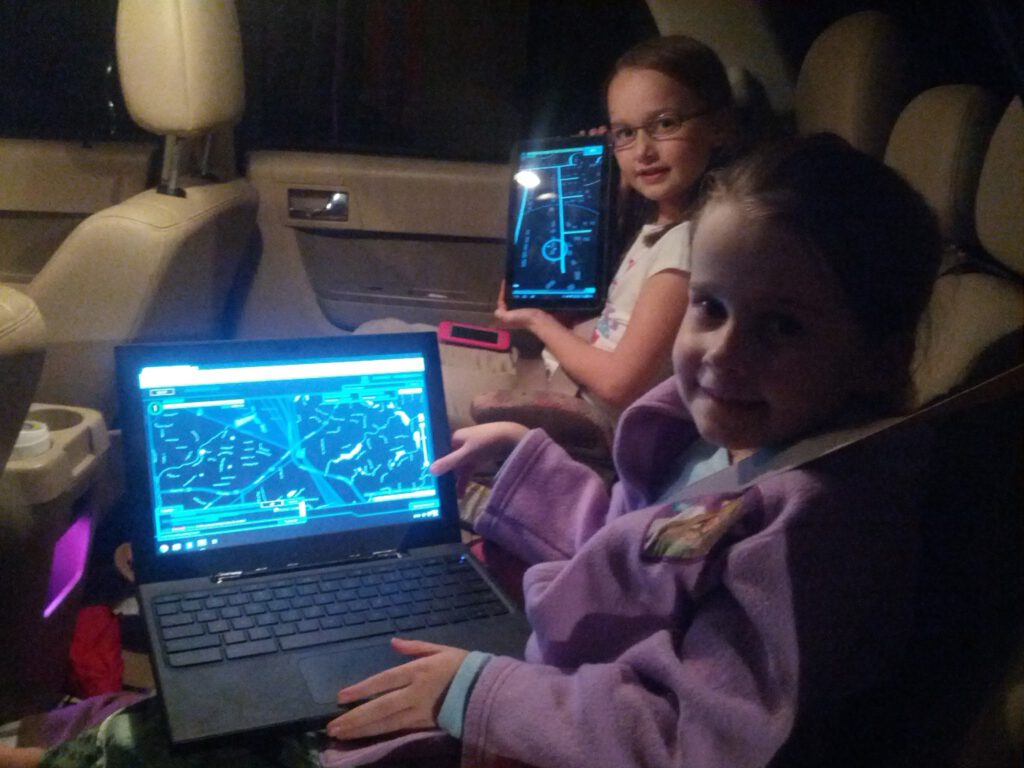 In the tray at the bottom…
Google Inbox: I mentioned back in December that I switched to Google Inbox and I'm still going strong.
Messenger: When I switched my cell service to Google's Project Fi last year, I also switched my SMS app from Hangouts to Messenger. Simple, fast, works great.
Google Maps and Waze: I go back and forth between these two, so I keep them both down there for now.
Google Keep: I use Google Keep for notes a lot, as explained in this post late last year.
Google Chrome: I keep my mobile browser close at hand.
What apps are your favorites on your home screen?